Coulter Blasts Obama For NSA Snooping: Cares More About 'Harassing Americans' Than Fighting Terrorism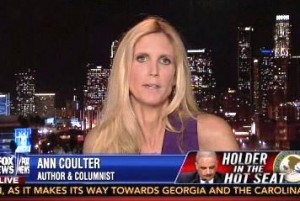 Ann Coulter did not object to the news about NSA phone snooping on principle, but does have a problem with it under this particular president. She told Sean Hannity tonight that under an "honorable administration," the government should be able to collect phone records, but said that President Obama, with all the other scandals that have come out, has proven to be untrustworthy and he cares more about "harassing Americans" and his political opponents than actually fighting terrorism.
RELATED: O'Reilly Tears Apart NSA Snooping: What's To Stop Gov't From Exploiting GOP Phone Calls?
Coulter first commented on Eric Holder's involvement in the James Rosen snooping case, declaring the national security claims to be "nonsense." On the NSA collecting Americans' phone records, she made it clear that the NSA is just looking for patterns and not the content of phone calls, which is perfectly fine "under an honorable Democratic administration, if you can think of one." But Coulter said people just "can't trust" Obama at this point, because "they don't care about terrorism, they want to spy on their political enemies."
She claimed that unlike the Bush administration, the current one does not take terrorism seriously, and prefers "harassing Americans" and their political opponents. Hannity brought up legal precedent establishing protections for the content of phone calls. Coulter decided that since this "unbelievably corrupt administration" can't be trusted with such personal information, she suggested Congress should pass a law preventing the government from accessing those records until January 2017.
Hannity brought up the PRISM data-mining program exposed tonight by The Washington Post, though Coulter said she thinks the paper is "wrong." Hannity gave some rare words of praise to the New York Times for saying Obama has lost credibility. Coulter concluded, "You need a virtuous man in the presidency, so choose wisely next time, America."
Watch the video below, courtesy of Fox News:
—–
Follow Josh Feldman on Twitter: @feldmaniac
Have a tip we should know? tips@mediaite.com
Josh Feldman - Senior Editor