Coulter: Media's New Tactic is To Act Like They're 'Shocked' By 'Perfectly Appropriate' Criticisms Of Obama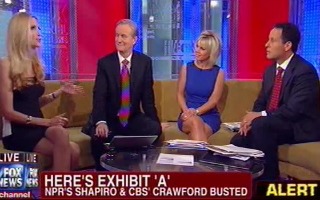 Audio of reporters coordinating questions ahead of a press conference by Mitt Romney on Wednesday continues to cause a stir. Conservative commentator Ann Coulter appeared on Fox & Friends on Thursday where she said this incident is reflective of how journalists will handle the campaign until November. She said that the media's new tactic is to act outraged by Romney's critiques of President Barack Obama no matter how appropriate those criticisms are.

RELATED: Open Mic Catches Reporters Coordinating Questions Ahead Of Romney Press Conference
Steve Doocy played the clip for Coulter and asked, "What do you think was happening there?"
"What many of us suspected was happening," Coulter replied. "How could all these reporters independently come up with so many boneheaded questions?"
"It was the same question," said Brian Kilmeade. Coulter agreed and said that the media ignored the behavior of the Obama administration – which she says lead to the death of the U.S. ambassador to Libya – and opted to focus on Romney's criticisms of the president.
"The media's technique now is to play a perfectly appropriate answer from Mitt Romney, and then to come back to them, the hosts, and act like they're shocked," said Coulter.
Gretchen Carlson asked Coulter why those reporters would ask the same question of Romney six times. Coulter said that this technique will be reversed when they are interviewing President Obama, and they will ask him questions like, "How hard is it dealing with these Republicans?"
Coulter went on to criticize the Obama administration for accepting that an anti-Islam movie made in the U.S. in June would ignite the deadly attacks on U.S. embassies on Tuesday. Coulter called the movie a pretext for the attacks.
Watch the segment below via Fox News Channel:
> >Follow Noah Rothman (@Noah_C_Rothman) on Twitter
Have a tip we should know? tips@mediaite.com