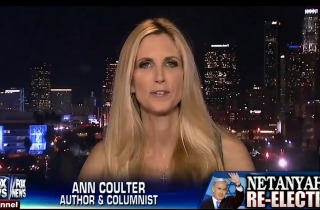 Ever since Israeli Prime Minister Benjamin Netanyahu won his re-election earlier this week, Fox News has been America's source for "When will Obama call and congratulate him?" news reports. Even though the phone call was made Thursday, however, it did not stop some of Obama's harshest critics.

From last night's Hannity, here's what Ann Coulter had to say about #BibiPhoneCallGate:
I think it's hilarious and fantastic that Fox News is covering, you know, each hour that Obama had not — up until recently today, I guess — congratulated Bibi Netanyahu on his victory. It's like, you know, "Has John Hinckley called to congratulate Ronald Reagan yet?" No, of course he opposed Bibi Netanyahu's re-election.

I think Republicans can learn from this. Instead of cowering in the face of left-wing ethnic agitation, how about pointing out that they're bussing Somalis to the polls in Minnesota; how they're dumping illegal alien ballots on the absentee ballots on the polling booth in Arizona. Because unless America reaches a two-state solution with Mexico, this is what it's going to be like for Israel. They will not have their most loyal ally in the world anymore. It will be all Barack Obamas from here on out.
For those who flunked AP American History: John Hinckley, Jr., was the man who attempted to assassinate President Ronald Reagan in 1981 in an effort to impress actress Jodie Foster. So… metaphorically speaking(?)… Obama attempted to "kill" Bibi's re-election? Or something?
Watch below, via Fox:
— —
Have a tip we should know? tips@mediaite.com