Coulter Rips MSNBC's Conservatives, Praises Fox's 'Not Stupid' Liberals: 'It's a Real Fight on Fox'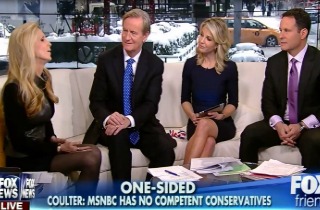 Last week, conservative columnist Ann Coulter joined Newsmax host Steve Malzberg for an interview where she was widely misconstrued as saying that Fox & Friends "will not put on conservatives who can put two sentences together." Coulter later clarified that she was referring to MSNBC's programs, not those of Fox News Channel. On Wednesday, she appeared on Fox & Friends to further clarify her comments and took the opportunity to swipe at MSNBC's conservative guests.

"I was attacking myself, apparently," Coulter remarked about the misconception. She went on to blast MSNBC hosts like Ed Schultz and Rachel Maddow, who she says refuse to debate smart conservatives.
RELATED: Ann Coulter: Fox & Friends MSNBC Won't 'Put on Conservatives Who Can Put Two Sentences Together'
Coulter, referring to this site and others, guessed that the misinterpretation was due to the fact that "it's not that exciting a headline" to say that Coulter attacked MSNBC. "You know what else would make a fantastic headline? Ann Coulter kills family of five," she suggested.
"Look at the Fox liberals," Coulter added, citing former Democratic vice presidential nominee Geraldine Ferraro, Democratic campaign veterans Bob Beckel and Susan Estrich, and columnist Juan Williams. "These are not stupid liberals."
She said that MSNBC invites conservatives on like Meghan McCain to represent the other side of the debate. "It would be like Fox putting on Joe Biden's daughter to give the other side," Coulter added.
"They're not insubstantial liberals," she concluded. "It's a real fight on Fox."
Watch the clip below via MSNBC:
[Photo via screen grab ]
— —
> >Follow Noah Rothman (@NoahCRothman) on Twitter
Have a tip we should know? tips@mediaite.com