Coulter Shreds Zimmerman Coverage: Media Wants To Show Racist U.S. Is 'Trying To Rape And Murder Black People'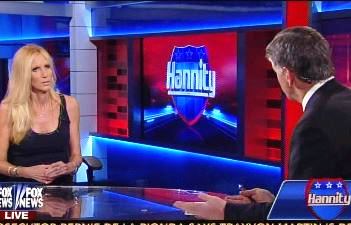 Ann Coulter sat down with Sean Hannity tonight lambasting the way the mainstream media has been covering the George Zimmerman murder trial since if began mere weeks ago. Both of them agreed that the media proclaimed Zimmerman guilty long before the trial began and overplayed the racial angle, while Coulter compared this case to the Duke Lacrosse rape case from a few years ago, saying that the media's trying to tell the public here that "racist America is out trying to rape and murder black people."
RELATED: MSNBC Guest: 'Stand Your Ground' Laws 'Humiliating' Blacks, Latinos, Put Them 'In Physical Danger'
Coulter proclaimed that liberals always "gin up the racial demagoguery" in cases like this, and doubted anyone would have cared about the trial if the races were reversed. She compared the Zimmerman trial to the Duke Lacrosse case that was also hyped up in the media to explain why this particular case is getting so much attention.
"They need their fake cause of how racist America is out trying to rape and murder black people."
She also found it ludicrous that a lot of the media coverage seems to assume that Zimmerman has to prove "he did not engage in racial profiling," because it's not a crime to do so, and added that Trayvon Martin never even needed to lift a finger for Zimmerman to think his life was in danger.
Hannity added it bothers him that it looks like the prosecution started out by overcharging and are only now putting out lower charges with the hope that the jury "cuts the difference."
Watch the video below, courtesy of Fox News:
—–
Follow Josh Feldman on Twitter: @feldmaniac
Have a tip we should know? tips@mediaite.com
Josh Feldman - Senior Editor