Coulter To Geraldo: 'Spontaneous Joke' When I Said Tsarnaev's Wife Should Be Jailed For Wearing Hijab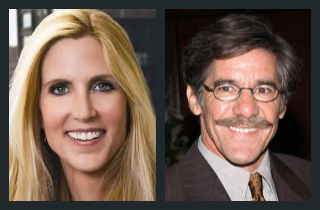 Appearing on Geraldo Rivera's radio show this afternoon, Ann Coulter clarified that her remark last week that Tamerlan Tsarnaev's widow Katherine Russell should be jailed for wearing a hijab was simply a "spontaneous joke." Rivera confronted her about the comment during a discussion of the Boston bombing's implications for immigration policy.
Appearing on Hannity last week, Coulter said the slain suspect's wife "ought to be in prison for wearing a hijab." And then, tying the attack to immigration, she suggested our policy of "assimilating immigrants into our culture isn't really working. No, they're assimilating us into their culture." She then astonished Hannity by asking of Russell: "Did she get a cliterectomy, too?"
Rivera read the remarks on his radio show today and Coulter immediately clarified that it was a "spontaneous joke" to suggest Russell should be jailed for donning traditional Muslim garb. Coulter explained that she used the remark to transition the Hannity conversation into one about how American immigration policy enables people who need government assistance to come here without concern.
"That was my transition joke," she told Rivera. "But the point being made by a joke there was: It's bad enough even if we had these policies even in an America that existed under Louis Brandeis. That is not the America we have anymore. Now it's diversity, multiculturalism. As I said, instead of us assimilating them to Western values and equality before the law — particularly female equality before the law — they're assimilating us!"
Listen below, as clipped by MofoPolitics:
— —
>> Follow Andrew Kirell (@AndrewKirell) on Twitter
Have a tip we should know? tips@mediaite.com