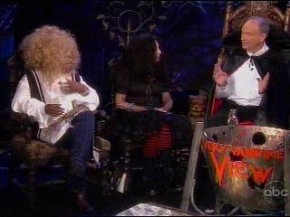 Bill O'Reilly appeared on The View Friday, dressed as a vampire for their Halloween-themed show.
This is what happens when five women, including one dressed as a box of cereal, and a Fox News host dressed like he's Count Dracula have a heated political discussion.
Walters asked O'Reilly about the ongoing feud with the White House – O'Reilly said he sent Pres. Obama a fruit basket to thank him for helping the ratings. "We want him to not like us, although I like him, I like the guy," he said. "But we want him to keep saying bad things about us."
He named names as well: "There's two commentators on Fox that really don't like Barack Obama, Glenn Beck and Sean Hannity, but the rest of us, Greta, Shepard Smith, Bret Baier, myself, we're willing to give the guy the benefit of the doubt."
There was also time to annoy various View hosts on specific issues. He got under Joy Behar's skin when he took some shots at CNN's rating, noting "they don't have any pizazz."
For Whoopi Goldberg, it came when Barbara Walters was describing the nearly year-long streak of O'Reilly's book sitting on the New York Times Bestseller List. "Look at Goldberg she's so jealous," joked O'Reilly, before Whoopi shot back: "What would I be jealous of Bill, I've been a movie star for 25 years, baby."
And the leader of The View, Walters, made O'Reilly plug his own book after he cracked a joke about Rosie O'Donnell.
So it went pretty much how many of O'Reilly's frequent appearances on The View go – good-natured fun, some awkward moments and an honest chat. Only this time Elisabeth Hasselbeck was wearing an enormous cereal box.
Here's the full interview:


—–
» Follow Steve Krakauer on Twitter
Have a tip we should know? tips@mediaite.com