Country Star Luke Bryan Kiss-Bombs Duck Dynasty's Willie Robertson During Fox Interview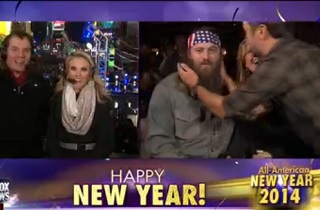 During Fox News' "All-American New Year" special, Willie Robertson and wife Korie Robertson sat down with hosts Elisabeth Hasselbeck and Bill Hemmer following the ball drop, to conclude the interview they began earlier in the broadcast. As Hasselbeck bantered with the couple about their first kiss of the new year, country singer Luke Bryan photo-bombed the shot, and leaned over Korie Robertson to give Willie a near-miss kiss.
"Let me get a kiss!" Bryan said, grabbing Robertson's face, but not quite going all the way in for the smooch.
"Willie let me go on vacation with him!" Bryan joked.
The balance of the interview was focused on the future of Duck Dynasty, and the Robertson clan. Asked what they expect for 2014, Mrs. Robertson said that "We've been so blessed in 2013 that you know, I think I just hope it continues. We're going to stick together as a family, and doing what we're doing, and giving God the glory.
Willie said "Hopefully my employees will keep up with more duck calls while I'm way. Nobody has been putting together duck calls since I've been gone. I have to get back and crack the whip."
They were also asked "What is your expectation in the new year now?"
The couple plugged some upcoming projects, Korie said she would "Pray blessings on our country. We have a strong cause for adoption. One of our children is adopted so we're going to do more work in that arena, and try to get more kids in homes. Hopefully, as a country, just come together."
Willie concluded by promising "I'm going take better care of my beard this year than last year. More lotions and oils. I need to get back to the beard."
Here's the video, from Fox News:
Have a tip we should know? tips@mediaite.com