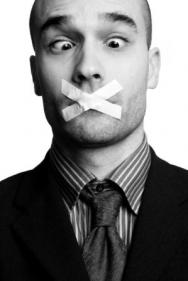 Well, holy sh*t. The 2nd U.S. Circuit Court of Appeals in Manhattan ruled today that the FCC can no longer fine broadcasters for airing profanity that relates to "sex, sexual organs, or excretion" (presumably meaning the F and S words) as the policy was unconstitutional. The policy was created in 2003 after U2 singer Bono accidentally dropped an F-bomb after winning a Golden Globe. Under the old statute, which had increased its fines following Janet Jackson's infamous wardrobe malfunction, a network could be fined as much as $35 million dollars for each prohibited curse word.
From the Associated Press:
"'By prohibiting all `patently offensive' references to sex, sexual organs and excretion without giving adequate guidance as to what `patently offensive' means, the FCC effectively chills speech, because broadcasters have no way of knowing what the FCC will find offensive,' the appeals court wrote.
'To place any discussion of these vast topics at the broadcaster's peril has the effect of promoting wide self-censorship of valuable material which should be completely protected under the First Amendment,' it added.
The court said the FCC might be able to craft a policy that does not violate the First Amendment.
FCC spokeswoman Jen Howard had no immediate comment."
Before anyone complains that all this ruling will lead to is a bunch of celebrities cursing more on live TV (like, ugh, the MTV Movie Awards), let us point out that some actually important broadcasts were disrupted by the policy. As the LA Times reminds us, CBS refused to air the Peabody Award-winning " 9/11″ documentary for fears that the FCC would crack down due to moments of firefighters using profanity. Any policy that kept people from learning about one of the most important days in American history just because of some potty talk clearly needs some work.
This ruling is great news for the broadcast networks who had all banded together for the lawsuit. It's especially good news for any network that planned on letting Mel Gibson host any live programs.
Have a tip we should know? tips@mediaite.com