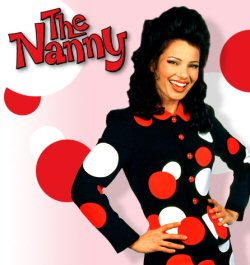 Oy vey. Fran Drescher, the nasal actress with an obnoxious laugh who made a name for herself in the '90s playing Fran, a nasal woman with an obnoxious laugh, on The Nanny, will be starring in her very own talk show as of next month.

The program, imaginatively called The Fran Drescher Show, will "cover all my passions, everything from pedicures to politics," according to the star of The Beautician and the Beast. But don't expect Drescher's show to be all sweetness, light, and braying; the actress, who is a survivor of both uterine cancer and rape, also plans to share "life lessons" with her audience.
Only lucky viewers in New York, Los Angeles, Philadelphia, Phoenix, Minneapolis and Orlando will be able to watch Fran Drescher beginning November 26. Fox Television Studios is testing out the show in those cities; if it does well, it'll eventually be syndicated nation-wide.
Drescher isn't the only '90s sitcom star who's currently attempting to make a televised comeback; a few days ago, ABC Family announced that it's ordering a full season of Melissa & Joey, a comedy that stars former teenage witch Melissa Joan Hart and "whoa" aficionado Joey Lawrence. Mayim Bialik, Lawrence's Blossom costar, began appearing on The Secret Life of the American Teenager and The Big Bang Theory this year. And this summer, TV Land hit pay dirt with Hot in Cleveland, an old-school sitcom featuring three '90s TV veterans.
Which raises an important question: who's next? Could Alfonso Ribeiro, who played Carlton on The Fresh Prince of Bel Air, host a reality competition that searches for the best spastic dancer? Will Jaleel White make a last-ditch bid for relevance in a show called I'm Not Urkel? Is Tim Allen going to direct and star in a poorly-received, low-budget film? Oh, wait…
Have a tip we should know? tips@mediaite.com