Covering Famine In Africa, ABC's David Muir Haunted By Mother And Kids 'Who Hadn't Eaten In 5 Days'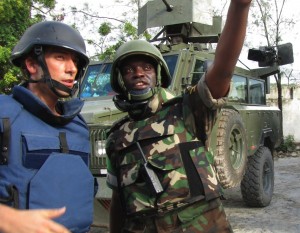 As the nation's news networks focus on the extraordinary battle on Capitol Hill over the debt ceiling and the economy, ABC has dispatched David Muir to Africa, where he's become the first American broadcast network reporter inside Somalia, a country devastated by famine. "I can't stop thinking about the mother who, after walking that journey from Somalia to Kenya, told me she and her children had not eaten in five days," Muir told Mediaite from Mogadishu, where he'll report for tonight's ABC World News.
Muir is traveling with a military convoy; soldiers in Mogadishu are working to keep the city safe enough for food and aid to get to those who need it. As Muir reports, the U.N. now says the severity of the crisis in Somalia makes it by far the "most serious food emergency in the world." It is believed tens of thousands have already died in Somalia and hundreds of thousands are on the verge of starvation. It's a massive international story that's found a place in ABC's coverage despite the dominance of the debt fight. "While much of the country debates the debt, as we rightly should, I'm grateful ABC News has devoted as much time as we have to reporting on the worst famine in a generation," Muir told us.
So who's working against getting food to starving families? Among others, al Qaeda. Muir witnessed Al Qaeda-backed forces try to block food aid from reaching Somalia this weekend when his convoy came under fire.
Watch Muir's report on the link to terror here, from ABC News:
Have a tip we should know? tips@mediaite.com