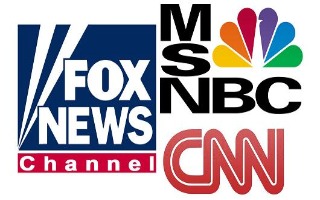 If you happened to watching the news late Sunday afternoon or into the evening — or, more likely, if you happened to be checking Twitter during that time — you would have noticed that Libya and its elusive former leader Muammar Gaddafi were commanding America's attention or, at the very least, much of its television programming. So how did different networks fair in covering this historical moment?
Well, perhaps most prominent among the threads of discussion unfolding online was the fact that MSNBC, unlike rival cable news networks CNN and Fox News, aired documentary programs Body Snatchers of New York and Caught on Tape rather than provide live or breaking coverage of the rebel incursion into the capital city of Tripoli. Both CNN and Fox News cut into their regularly-scheduled evening programming to feature live dispatches from Libya, while Al Jazeera English and Britain's Sky News provided online feeds about the activities abroad from early Sunday afternoon on.
For comparison purposes, here's a look at how different networks have covered and will continue covering the goings-on in Libya:
Fox News Channel
FNC went live at 4 pm. ET last night, bringing viewers a live Fox Report broadcast from 7-9 p.m., followed by a live program with Geraldo from 9-11 p.m.
Fox & Friends started at 6:00 a.m. ET Sunday morning to cover the latest news coming in from Libya.
Thanks to its sister network Sky News, FNC was the only one with live coverage from Green Square of rebels seizing center of Tripoli.
As of now, Fox News' Tadek Markowski is in Tripoli covering the story while Dominic Di-Natale is on the ground in Tunisia. Steve Harrigan, who covered the story back in March, was en route to Tripoli and will provide ongoing coverage today.
MSNBC
As mentioned above, MSNBC aired two documentaries last night while others reported on Libya, eventually turning to live coverage at 8 p.m. Sunday night.
An MSNBC spokesperson told Yahoo's The Cutline that "We've been monitoring the news closely and have broken into taped programming several times in the past few hours."
CNN
CNN stuck with its live Libya coverage late yesterday evening, continuing through the 8 p.m. hour instead of airing its scheduled special with Sanjay Gupta.
CNN's Matthew Chance reported from the Rixos Hotel (where many journalists were housed) and Sara Sidner reported from Green Square in Tripoli.
CNN Arabic has also been providing ongoing coverage of the uprising in Libya.
Al Jazeera English
AJE has a permanent bureau in Tripoli as well as multiple correspondents in Libya. As of right now, Zeina Khodr is in Tripoli, Jacky Rowland in Benghazi, and Andrew Simmons is en route to Tripoli. The correspondents have been constantly based on the movements of the rebels.
Neither ABC, CBS, NBC, CNN, FOX nor MSNBC have bureaus in Tripoli. Many networks have been using video and other content provided by AJE.
AJE is also doing coverage from around the globe, including reports from Europe and the United States on the reaction to the situation.
Libya continues to be the top story on Al Jazeera English- has been main story since 8/19, and is featured prominently on the AJ English website.
Along with live reports and news stories on Libya, AJE has had an Inside Story episode on the fall of Tripoli, and interviews with guests such as former US State Dept spokesperson PJ Crowley.
SKY News
Britain's SKY News special correspondent Alex Crawford reported live with dramatic coverage from within the rebel convoy.
The Guardian explains how the network was able to capture and send out its incredible reports:

Footage from cameramen Jim Foster and Garwen McLuckie was beamed live via an Apple MacBook Pro, connected to a BGAN mini-satellite dish, while the whole setup was powered via a charger attached to their pick-up truck's cigarette lighter socket.

In the back of the vehicle, Andy Marsh, the producer, sat holding the satellite dish and a compass, constantly readjusting the dish to track the satellite above. The arrangement proved so stable that at one stage Crawford was able to broadcast live and uninterrupted for 40 minutes, answering questions from Stephen Dixon, Sky's anchor in London.
So. Why would MSNBC choose to stick to its taped programming rather than switch over to live reports?
It would be naive to believe that any major American news network is solely interested in the altruistic presentation of news and hard facts — although they do provide these, regularly, and often very well. However, these networks also provide entertainment, be it in the form of red-faced pundits yelling at and about one another on opinion news programs, or talk shows dissecting the latest political or pop culture gossip, or documentaries about body snatching. And while these networks have an impetus and a mission to provide information, they are also obligated to perform in a way that garners ratings and maintains its viewership, despite whatever criticism other members of the media might hurl in their direction for doing so.
A pervasive criticism lobbed against American news outlets is that they they (we) our relatively unconcerned with international events and news, choosing instead to focus inward. The reality is that, time and time again, international news stories, however dramatic or historically significant, don't bring in eyeballs the way something like, oh, a certain court case involving a young mother and her adorable daughter might.
Remember: This is a business, too.
So, tell us: Have you been keeping up with the events unfolding in Libya? If so, which network have you turned to for coverage?
Have a tip we should know? tips@mediaite.com