Craig Ferguson And Jimmy Fallon Reach Across The Time Slot And Exchange Christmas Gifts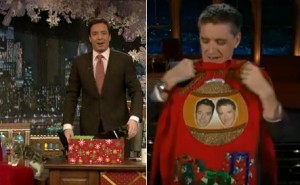 Christmas is a time of year when anyone should be able to get along, even the most ardent of foes, hated of enemies, and fiery of rivalries. I'm speaking, of course, of late night talk show hosts on opposing networks. Last night, Craig Ferguson and Jimmy Fallon showed this was the case by sending each other terrific Christmas presents to be opened on air, despite their "direct competition" as Ferguson put it. Wow, if these two can be friends, does that mean Jay Leno should expect a Christmas card from Conan? Eh, probably not.
First came Fallon's gift which was a lovely Christmas sweater featuring both hosts' faces. This was especially welcome since, as Ferguson pointed out, "everyone knows Jimmy Fallon is the best knitter in show business" with the knitting abilities of "12 gay men" (I didn't even know knitting was a gay stereotype. Huh). Next came Ferguson's gift to Fallon which was hidden under the host's desk. When Fallon opened the box, he discovered…two adorable kittens! If that wasn't enough, wait till you see their names.
At the end of the Ferguson segment, while he held up his new sweater, the CBS host had a Christmas message to everyone in the media:
"And to all you media hacks who like to kind of poke the hole in the hornets nest and say there's a late night war…go right ahead."
Check out the clips from NBC and CBS below:
(via The Comic's Comic)
Have a tip we should know? tips@mediaite.com