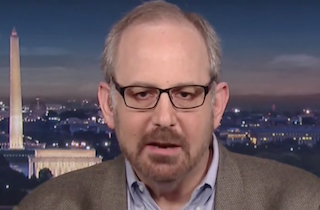 Yesterday an airplane fight over legroom caused an unscheduled landing wherein the two people fighting were kicked off. The fight was over the Knee Defender, a device that physically keeps the person in front of you from reclining in their seats. And, let's face it, how you view this is subjective. You might like to recline in your seat, but hate it when the person in front of you does it, thereby not giving you sufficient room to work on your laptop or something. Well, on MSNBC tonight, Chris Hayes brought on Knee Defender inventor Ira Goldman to defend himself.
Hayes couldn't help but find the whole thing a little amusing, especially the fact that they offer little "courtesy cards" you can give to someone to apologize (sort of) for your use of the Knee Defender. Hayes told Goldman, somewhat bewilderedly, "You've created a device to basically rend apart what little social contract exists on an airline and then to hand out passive-aggressive cards as a kind of pseudo-apology for it."
Goldman's response? He also has passive-aggressive cards for people who don't have the Knee Defender and just want the people in front of them not to recline in the first place. So… problem solved?
Goldman insisted this is a product people want because they're tired of horrible flights. He told Hayes "people aren't using this to hog space," they're using it because they don't want their computer screens cracked or they have babies on their laps and don't want seats reclining and hitting their babies or something.
Watch the segment below, via MSNBC:
[image via screengrab]
— —
Follow Josh Feldman on Twitter: @feldmaniac
Have a tip we should know? tips@mediaite.com
Josh Feldman - Senior Editor