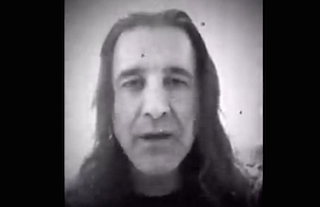 Former Creed frontman Scott Stapp has fallen on some seriously hard times. Last month, he released a series of disturbing videos online in which he claimed to be broke and homeless. Now, after his wife tried to file a 60-day psychiatric hold on the singer, new 911 tapes reveal that he believes himself to be a CIA agent tasked with the assassination of President Barack Obama.
"He thinks he's part of the CIA. He thinks they're trying to kill him, and he has a bunch of paperwork in his backpack that he's a CIA agent and he was supposed to assassinate Obama," one woman can be heard telling the police during a call made by Jaclyn Stapp and her sister after the singer was released from an initial 72-hour involuntary psychiatric hold.
They reported that Stapp, who has long suffered from "paranoid schizophrenia," was on a bicycle with no shirt and two backpacks full of "CIA" paperwork and various tools and hard drives. "The only way he's going to stop is when he hits rock bottom," the voice said.
Listen to the 911 audio below, via TMZ:
Before the 2012 presidential election, Stapp visited Fox & Friends to promote his memoir, Sinner's Creed
, and share his thoughts about President Obama. While he supported the president in 2008, he said he would not be voting for him a second time.
"I'm just disappointed and had very high hopes and expectations and was really inspired by President Obama," he said at the time. "And I still am, he's an amazing speaker. But I just found, in my opinion, his administration ineffective — a lot of promises, but no real delivery."
At that point, he did not suggest any delusions about working with the CIA.
Watch the appearance below, via Fox:
[Photo via screengrab]
— —
>> Follow Matt Wilstein (@TheMattWilstein) on Twitter
Have a tip we should know? tips@mediaite.com