Critic: Eliot Spitzer's Good, But Could Be Great; Parker Spitzer Just Doesn't Work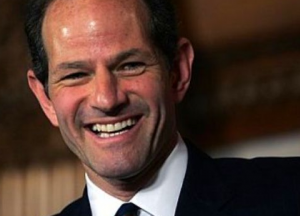 Broadcasting and Cable's Melissa Grego gave Parker Spitzer a try when the show debuted, but quickly "bailed," when the show's PR push as a clash of strong-willed but political divided co-hosts wasn't how the actual show looked. "I found the highly-publicized new 8 p.m. offering overpromising/under-delivering on the whole point-counterpoint idea." Grego writes in B&C today that she recently flipped past Parker Spitzer and stopped, seeing a lively exchange over the Middle East that was refreshing and worth watching. "I saw exactly why Eliot Spitzer continues to garner buzz for being good despite the show's disappointing ratings and the speculation of its demise. Spitzer is good. But he could be great."

Grego describes Spitzer's interviews as aggressive, informed, and opinionated. In other words, compelling. "Agree with his politics or not, the guy's got a point of view, a talent for timing and the kind of confidence that remains rare on TV." Grego says the show's slower moments come from the other half of the Parker Spitzer duo, Kathleen Parker:
Next to Spitzer who reads effortlessly unscripted, Kathleen Parker still reads like she's, well, actually reading. Parker and Spitzer together have at this point still drummed up a total of zero chemistry sitting side by side. You could tell me they're sitting in separate rooms and spliced in with some editing magic, and I would not be at all surprised. There's no sense that Parker and Spitzer have any real difference in perspective. Except maybe that he looks like he's engaged and enjoying the dialogue, and she is not. It's unnecessarily uncomfortable television.
Grego's observations may be shared by viewers, who sent Parker Spitzer to some of its highest ratings on record–when Parker was out sick, and Spitzer had the show to himself. Grego suggests a "revolution" in the show's format that will allow Spitzer to shine–even if that means hosting a show by himself, and allowing Parker another role that better suits her.
Have a tip we should know? tips@mediaite.com