Critics Trash Bill Maher's Sex Life To Defend Sarah Palin, But Cede Moral Highground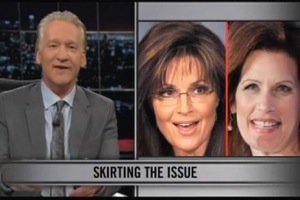 Bill Maher has found himself in a familiar place. Hosting a program that routinely indulges in off-color political humor and taunts the lines of decency in our public discourse, Real Time may have crossed its own lines. The highlights of the program are already well-known: calling Sarah Palin's family "inbred weirdos," speculating as to what Rep. Michele Bachmann's sex life is like, wishing Congressional Republicans dead. Yet sad as it is, Maher can count at least one battle won in the war for vulgarity, as some on Fox News have taken to speculating about his sex life in retaliation.
Last Friday's Real Time has already etched a place for itself in modern media history as something akin to the famous "Happy Birthday, Trig Palin!" Wonkette post, and its contents well-known to anyone following political media, but it's worth repeating them: Maher called the Palin family a bunch of "inbred weirdos"—a comment listeners were quick to equate to Trig Palin's Down Syndrome. His panelists discussed what Marcus Bachmann was like in the bedroom– with Michele, of course– hoping the "repressed anger" did them some good (Rick Santorum got in on this conversation somehow, too). Oh, and lest we forget, Dan Savage admitted to wanting all Congressional Republicans dead, but by then the discussion was so far off the rails that it didn't sound quite as jarring as it should have. It was not, to put it mildly, Real Time's finest moment.
Most of the backlash has been on the mark. Greg Gutfeld's monologue on The Five yesterday took care to attack Maher stridently for his hate, but kept his sharpest language for his audience—"cowards… an echo chamber, an effusive slophouse of flapping, approval-seeking seals." On last night's Red Eye, Ann Coulter—a recurring guest on Real Time—lamented that the audience appeared to be rewarding the program simply for it's faux-edgy profanity. Online, Big Hollywood's John Nolte even went so far as to consider the comments against the Bachmanns and Sarah Palin herself borderline acceptable, as they "were directed at adults perfectly capable of defending themselves," and targeted the "inbred weirdos" comment specifically as "astonishingly obscene." The character judgments were left unspoken, as, to most, the words did all of the talking.
Unfortunately, in handling such noxious language, some have not been able to resist the temptation of fighting fire with fire. During that same discussion with Gutfeld on The Five, for example, panelist Dana Perino could not hold back her disgust, spitting out an HBO-style word off-microphone and proceeding to attack Maher as a sniveling, hideous nerd. "I don't know who stuffed this guy in a locker in high school, but this guy is such a loser," she railed, going on about how she "couldn't imagine any woman" being interested in him, making the clear implication that his inability to seduce ladies was directly correlated to his attention-grabbing, unacceptable screeds. She was not alone, however– possibly topped by another high school reference later yesterday on Hannity.
In a segment discussing the same program, Andrea Tantaros— who, during the same discussion on The Five kept to the rhetoric– also took the liberty to speculate as to Maher's private life. " "I think it goes a lot deeper than politics," she quipped. "He talks about sex all the time, you wonder… is this guy frustrated about something else? Did some woman in high school, or now, that looks like Sarah Palin completely blow him off?" Hannity partook more mildly in the same: "He hates God, hates religion, he smokes pot, he wants to be Hugh Hefner— hes not hard to figure out." That exchange below:

The visceral, personal reaction is entirely understandable and very difficult to avoid– lie down with dogs, get up with fleas, as the aphorism goes. It's acting on impulse, scratching an itch to do something about the atrocious insults on the screen. It comes from a good place. It is the sort of behavior that is perfectly acceptable for anyone sitting in their armchairs watching at home, or anyone sitting on Bill Maher's armchairs watching themselves in the camera. It does nothing but strengthen the corrosive power of his discourse to use it against him. That's not to say that the commentary on Fox News was morally on par with Maher's– obviously talking about someone's high school frustrations is not akin to going after a toddler with Down Syndrome. But the sentiment behind the statements– the desire to disparage someone's private or sex life because they have said things that offend– is precisely the sort of unproductive, lowest-common-denominator raving that has made Maher a millionaire, its continued presence in venues other than Real Time an homage to his life's work.
Have a tip we should know? tips@mediaite.com