Crossfire 2.0: S.E. Cupp, Gingrich, New Co-Hosts Clash Over Gay Marriage, Texas Filibuster With Piers Morgan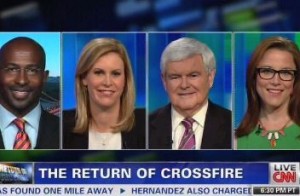 It's alive! IT'S ALIVE!!! Crossfire, the CNN political debate show that faded into that quiet good night eight years ago, has been resurrected by Jeff Zucker and his faithful sidekick Igor. The Fantastic Four, made up of S.E. Cupp, Van Jones, Newt Gingrich, and Stephanie Cutter previewed Crossfire 2.0 with Piers Morgan over discussions about the Supreme Court's gay marriage ruling and the Texas abortion filibuster.
Gingrich expressed his disappointment with the Supreme Court ruling, saying that their Proposition 8 dismissal was a slap in the face from Washington. Morgan asked Gingrich why he so strongly objects to gay people having the same marriage rights, and why anyone would view it as a tragedy that more people get to legally marry who they want. Gingrich maintained that it was a blow to democracy and traditional marriage.
Jones fired back that if Gingrich is so concerned about traditional marriage, Kim Kardashian has done more to damage the institution of marriage than any gay couple. He told Gingrich that there are plenty of straight people who get divorced and cheat on their spouses, and that you can't just put civil rights on the ballot. Cupp found the truly significant factor of the DOMA ruling to be the acknowledgement that states can still decide their marriage laws, while Cutter agreed with Jones that the Supreme Court acted as a check on the people of California when they infringed on the civil rights of others.
Morgan moved on to the Texas filibuster, and asked Gingrich how Rick Perry can say Texas celebrates life while also celebrating its 500th execution. Gingrich argued the point of the Texas bill was to stop abortions after the point in time when babies start to feel pain. Jones praised the actions of Wendy Davis, to which Cupp found to be incredibly overdone, remarking on the nation's "pathetically low" standards for what constitutes a hero. Cupp said the public will turn against the Democrats' extreme positions, although Cutter found the Republican bills in state legislatures all across the country to be far more extreme in how they regulate women's health decisions.
Watch the segment below, courtesy of CNN:
—–
Follow Josh Feldman on Twitter: @feldmaniac
Have a tip we should know? tips@mediaite.com
Josh Feldman - Senior Editor