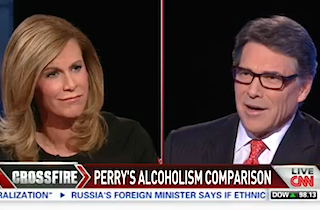 The fallout continued Wednesday evening over Texas Governor Rick Perry's comments comparing homosexuality to alcoholism. After he was confronted on the remarks by CNBC's Joe Kerman on Monday, CNN's Stephanie Cutter attempted to get a further explanation out of Perry on Crossfire today.
After playing a clip of Perry's comments, in which he said he chooses not to drink despite his alcoholic genes and suggests gays should do the same when it comes to sex, Cutter said, "You're saying alcoholism is a disease, we know that. Are you saying that homosexuality is a disease as well?"
Perry dismissed the question, saying his position "has been clear on that for a substantial period of time," but Cutter did not let him get off that easy, asking him to clarify what exactly that position is.
"No, I'm going to tell you where I think we need be as a country and what we need to be focused on. And that is not on these social issues," Perry responded. The most he would say is that he thinks gay rights issues should be decided at the state level. When Cutter pressed him on the alcoholism analogy specifically, Perry kept going back to the states rights stance.
Since Perry wanted to talk about states, Cutter than brought up the recently revised Texas GOP platform, which advocates an "escape from the homosexual lifestyle" using so-called "ex-gay" therapy. When Perry said he would leave those questions to the "psychiatrists and doctors," Cutter pointed out that they have roundly "rejected" those practices.
"So you don't have an opinion on any of this, you don't have an opinion on either side?" Cutter ultimately asked Perry.
"I think my statements stand on their own," Perry replied.
Watch video below, via CNN:
[Photo via screengrab]
— —
>> Follow Matt Wilstein (@TheMattWilstein) on Twitter
Have a tip we should know? tips@mediaite.com