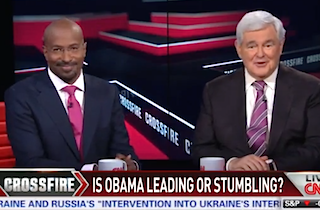 When Malaysia Airlines Flight 370 disappeared almost two months ago, so did CNN's Crossfire. The nascent reboot was quickly taken off the schedule to accommodate the network's wall-to-wall missing plane coverage, but Thursday evening it mysteriously reappeared. And hosts Van Jones and Newt Gingrich was even more fired up that usual.
Jones began the show by railing against Republicans, who he predicted are going to spend the next several months using foreign affairs as an "excuse" to heap blame on President Barack Obama. "The Ukraine, Benghazi, whatever it is, the same script: 'Obama is making America look weak,'" he said. "No, you guys are doing that. That's what you're doing."
"The GOP has now become the 'Get Obama Party," Jones told Gingrich. "That's what you guys are."
On the other side, Gingrich surprised himself by quoting The New York Times columnist Maureen Dowd, who received some unexpected praise from conservatives this week for her tough stance on the president. "Don't you think standing up to Putin requires Babe Ruth more than a guy hitting singles," Gingrich asked, echoing Dowd. "Isn't this really the big leagues?"
Following that, Rep. Karen Bass (D-CA) argued that Obama is, in fact, exhibiting strength when it comes to Russia while Sen. Ron Johnson (R-WI) pushed back on Jones' suggestion that Republicans are "blaming" Obama.
"I personally blame Vladimir Putin," Johnson said. "But the fact of the matter is, we have shown weakness." He added, "Vladimir Putin is not going to listen to words, and President Obama has said all kinds of good things, but you have to back those with action."
Watch video below, via CNN:
[Photo via screengrab]
— —
>> Follow Matt Wilstein (@TheMattWilstein) on Twitter
Have a tip we should know? tips@mediaite.com