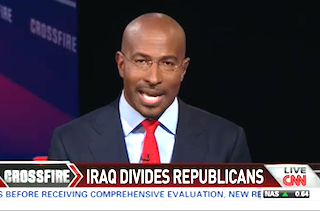 Van Jones opened a "very special episode" of CNN's Crossfire Monday by singing the praises of none other than Sen. Rand Paul (R-KY), who has emerged as one of the few Republican voices in opposition to U.S. military intervention in Iraq. In an unusual move, the show decided to eschew guests and instead offer up a 30-minute free-for-all with all four hosts, two on the left and two on the right. Either that, or they had some trouble in the booking department.
"This guy is talking common sense, thank goodness, especially about Iraq," Jones said, before showing a clip of Paul saying he would not be willing to send his son to fight in that country. "Well, hallelujah! Rand Paul says he wouldn't send his kids to die in Iraq. I've got two boys, neither would I."
On top of that, Jones agreed with Paul that the whole mess in Iraq is Dick Cheney's fault. And even better, Paul recently said "he wants to build a stronger American democracy right here by, among other things, restoring voting rights for some former prisoners."
"I love this!" Jones exclaimed. "You stop trying to fix every other country and get more Americans a real stake in this country. I am loving this guy."
Taken aback, co-host Newt Gingrich responded by saying, "I'm just sitting here thinking about the Van Jones commercial in Iowa endorsing Rand Paul and the Republican caucus. Tonight Rand Paul is going to go home and think, 'Finally, I've made a real breakthrough.'"
"He's thrilled to have your endorsement," S.E. Cupp chimed in.
Getting more serious, Gingrich said Paul would likely appreciate the praise from a liberal like Jones, because he is trying to "broaden" the Republican Party with these positions.
Watch video below, via CNN:
[Photo via screengrab]
— —
>> Follow Matt Wilstein (@TheMattWilstein) on Twitter
Have a tip we should know? tips@mediaite.com