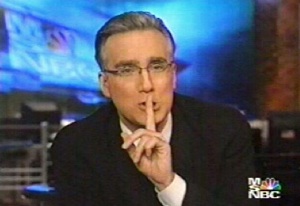 Politico reported earlier today that MSNBC host Keith Olbermann made donations to three Democratic candidates, one of which came directly after the candidate had been interviewed on Countdown that very night. While there is nothing illegal about donating money to a political candidate, it is apparently in violation of NBC's rules. But perhaps more important than violating rules, it demonstrates stunningly poor judgment. How could a guy as smart as Olbermann do something so stupid? This is not the first time, it may just be the first time Olbermann is being held to account for it. It is clear that this is Olbermann's Waterloo.
First, some background. Politico broke the story this morning, which immediately raised eyebrows around the cable news media world. Olbermann was certainly made aware of the story, since he provided the following comment reported by Simmi Aujla:
POLITICO discovered the Olbermann donation to Grijalva in a Federal Election Commission filing, and when MSNBC was asked for a comment, it forwarded a statement from Olbermann:

"One week ago, on the night of Thursday October 28 2010, after a discussion with a friend about the state of politics in Arizona, I donated $2,400 each to the reelection campaigns of Democratic Representatives Raul Grijalva and Gabrielle Giffords," Olbermann said. "I also donated the same amount to the campaign of Democratic Senatorial candidate Jack Conway in Kentucky."

In his statement, Olbermann said he wasn't using his influence to solicit any donations for the candidates.

"I did not privately or publicly encourage anyone else to donate to these campaigns, nor to any others in this election or any previous ones, nor have I previously donated to any political campaign at any level," Olbermann said.
In the past, it seemed as though Olbermann could do nothing that would lead MSNBC President Phil Griffin to take action against him. In fact, it always appeared that those who crossed Olbermann were sanctioned, seemingly by the man himself, with Griffin simply announcing the sentence. There was the matter of David Shuster, the Donny Deutsch kerfuffle and the case of the departing production staff. All of them seemed to lead to sudden and unannounced vacations, and vociferous pushback from Olbermann that may have foretold his demise.
Olber-gate is different from other controversies of its kind. Earlier this year a controversy arose over the two separate $1 Million donations given to pro-Republican groups by Fox News' parent company News Corp., but there is a key point of contrast. News Corp. is a corporation who pays for lobbying efforts (an issue that is worthy of a different post and/or debate). On the other hand, Olbermann is a leading figure in opinion media, and liked to define himself as a journalist, always rankled at the comparison between his advocacy and that of Fox News. In fact, he liked to compare himself to Edward R. Murrow, signing off his show with Murrow's signature "good night and good luck."
But his admission to giving private money to campaign efforts of Democratic candidates completely blurs the line between journalism and advocacy, which is ironically the very issue he consistently takes umbrage with regarding Fox News opinion media. This event now offers the ammunition his enemies have long sought, at a time when MSNBC management no longer has the will, nor power, to protect Olbermann in the way they once did.
In September of 2009, Mediaite reported on a political ad produced by Stanford professor Lawerence Lessig, that questioned the blurred line between Olbermann's journalism and advocacy. Olbermann took exception with the way we reported that story, and as a result, made its writer Robert Quigley, and editor, yours truly, "Worst Persons." Perhaps then he should have listened, and taken to heart, our earnest questioning of his overt advocacy.
Have a tip we should know? tips@mediaite.com