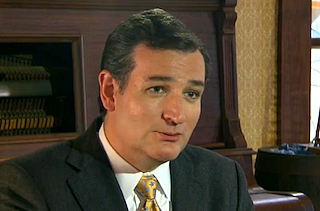 Senator Ted Cruz (R-TX) defended his recent attempted block of a cloture vote on the debt ceiling to CNN's Dana Bash Thursday morning. Cruz's maneuver forced several of his fellow GOP lawmakers to take "tough votes" to bring the bill to the floor, reviving anger from last October's Cruz-induced government shutdown that cost the GOP in the polls.
Cruz accused his Republican colleagues of "trickery" in trying to raise the debt ceiling while keeping GOP fingerprints off of it.
"Republican leadership said, 'We want this to pass, but if every senator affirmatively consents to doing it on fifty-one votes, then we can all cast a vote 'no' and we can go home to our constituents and say we opposed it,'" he said. "And listen, that sort of show vote, that sort of trickery to the constituents is why Congress has a thirteen percent approval rating."
RELATED: WSJ: Ted Cruz on Mission to 'Make Republicans Even More Unpopular'
Bash asked Cruz was indicting John Cornyn (R-TX), the senior senator from Texas, in that statement, but Cruz demurred. He also denied he was throwing Republicans under the bus.
"I don't want to throw any Republicans under the bus," he said. "I would like to see all forty-five Republicans stand together and actually do what we tell our constituents…I mean the funny thing is, what I told the voters of Texas, I guarantee you, all forty-five of those Republican senators tell the voters of their states the same thing, which is they're going to lead the fight to stop the spending, to stop the debt. And if forty-five Republicans had stood together, nobody gets thrown under the bus."
Watch the interview below, via CNN:
[h/t CNN]
[Image via screengrab]
——
>> Follow Evan McMurry (@evanmcmurry) on Twitter
Have a tip we should know? tips@mediaite.com