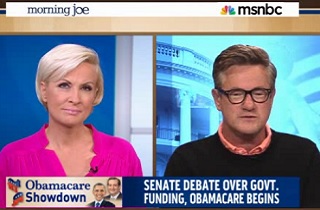 Morning Joe host Joe Scarborough has been working over Sen. Ted Cruz (R-TX) like a side of Rocky Balboa's beef lately, but on Tuesday morning, tried to even things out a little by having a go at President Obama. Counting on his panel to follow the usual rules of Joe Club, Scarborough tried to make a comparison between the freshman Senator with the sophomoric strategy, and another former freshman Senator named Barack Obama (D-OTUS), but co-host Mika Brzezinski bent the rules a little.
The rules of Joe Club are simple, and unlike Fight Club, do not include keeping quiet about them. The idea is to give the appearance of diverse viewpoints, while stacking the deck in favor of the host's own conservative worldview. As Scarborough puts it, ""many times I'm the only conservative on that program, but count the words. I dominate the program. So it's basically, if there are five liberals around the set, what makes the show fascinating is it's five liberals against one conservative, and just to be blunt, given the authority that I am given on that show by the network and the format and by my co-host Mika, that's usually a pretty fair fight."
On Tuesday morning, Scarborough ran the game by asking MJ regular Donny Deutsch a question that he knew Deutsch couldn't answer, but which Scarborough surely knew the answer to. In an attempt to equate the President with Ted Cruz, Scarborough asked Deutsch to "name me the major piece of legislation Barack Obama passed in the United States Senate that would suggest he knew how to work in the United States Senate, and would be an effective President of the United States?"
His point, apparently, was that both Obama and Cruz immediately abandoned their respective duties to legislate, in favor of building political momentum for a presidential run.
Of course, Deutsch was unable to do so, but under repeated badgering to "name on piece of legislation," he did push back on the offensive comparison. "One guy was a lunatic, one had a sane level of thinking," Deutsch protested.
Co-host Mika Brzezinski wasn't able to, either, but eventually did serve Scarborough a decent cocktail of Shut-Up Juice and Trail-Off Whiskey, telling him "The parallel with the President is unfair. Can anyone name a president who passed health care? No. Can you name presidents who tried? Yes. No one has been able to do it."
"Mika, what's your favorite piece of legislation the president passed?" Scarborough smugly asked.
"Health care, actually," Mika replied.
"When he was in the Senate?" Scarborough said, trying to eke out a victory on points.
"Do you really think it should be completely defunded and start all over again?" Mika asked.
"No." scarborough replied.
"Do you think people shouldn't have access to health care? Can we get back to what this is about?" Mika said. "Ridiculous. You can't make a parallel between Ted Cruz and President Obama."
Although Mika didn't have the answer to Scarborough's rigged game, she did manage to put the churlish comparison in perspective, and it serves Scarborough right. While his panel of regulars might not have known this, Joe Scarborough must certainly be familiar with President Obama's Senate career. Anyone with even a passing familiarity with it knows that then-Senator Obama had a thing for loose nukes, and worked across the aisle on measures to prevent the proliferation of weapons to bad actors. Part of that work was the Lugar-Obama initiative, which was signed into law by President George W. Bush on January 11, 2007.
That's not the only piece of legislation that Obama passed, or helped pass, as Senator Obama, but it is the most well-known. Scarborough surely knew it, and counted on his panel not to. To paraphrase Marlo Stanfield, Joe Scarborough wants it to be one way, but it's the other way.
Have a tip we should know? tips@mediaite.com