Cruz Reacts to Trump's Angry Wisconsin Reaction: All He Does Is 'Insult and Curse'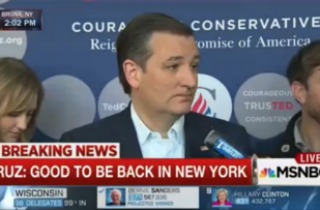 Ted Cruz held a campaign event in New York City today, where he was asked to respond to the bonkers statement issued last night by the Donald Trump campaign.
Cruz got the better of Trump last night in Wisconsin, which led to accusations that he was a "Trojan horse" who committed a crime by collaborating with his Super PACs and establishment higher-ups to steal the Wisconsin primary. Cruz said that his recent primary victories have started to close the gap between Trump and himself, and that the plutocrat is welcome to pout and fling insults as he usually does when he loses:
"The day before yesterday, Donald Trump promised, quote, a big victory in Wisconsin. Not only did he not get a big victory, but the men and women of Wisconsin resoundingly rejected his campaign, and the reason is simple. Donald has no solutions to the problems we're facing. He likes to yell and scream and insult and curse, and his statement last night was consistent with that.
After that, Cruz took shots at Trump by saying he hasn't proposed any substantial job-growth policies, and that he has no interest in working on behalf of the people.
"The reason Donald lost so resoundingly in Wisconsin is he has no solutions," Cruz said. "No answers for bringing jobs back, for raising wages, and we're running a campaign based on a positive, optimistic, forward-looking agenda to bring jobs and opportunity back to America."
Watch above, via MSNBC.
[Image via screengrab]
— —
>> Follow Ken Meyer (@KenMeyer91) on Twitter
Have a tip we should know? tips@mediaite.com