Cruz Self-Aware of Media Caricature: Nixon Was 'Evil,' Bush Was 'Stupid' and I'm 'Crazy'
Cruz on Media Caricature: Nixon 'Evil,' Bush 'Stupid,' I'm 'Crazy'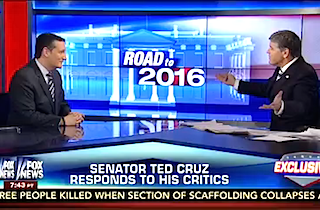 To cap off his big 2016 campaign announcement day, Sen. Ted Cruz (R-TX) sat down for an "exclusive" hour-long interview with Fox News' Sean Hannity. The two men discussed a number of issues in the mostly friendly session, and at one point the Fox host gave Cruz a chance to respond to both the past criticism he has received from "the left" and the inevitable hits he will continue to take from the "mainstream media" as a whole.
"How do you deal with the Clinton machine and the predictable, I guess, narrative that has advanced every election cycle against any Republican or conservative?" Hannity asked Cruz.
In Cruz's view, the media "paints two pictures" of Republicans: "We're either stupid or evil." In the "stupid" camp, you have Ronald Reagan, George W. Bush and Dan Quayle (he neglected to mention fellow Texan Rick Perry). On the "evil" side were Richard Nixon and Dick Cheney.
"I guess I take it as a little bit of a backhanded compliment that the media has to some extent invented a third caricature for me, which is crazy," Cruz added. "They do anything they can to paint me as a wild-eyed lunatic with dynamite strapped around my chest."
In explaining how he plans to manage a media that "hates Republicans now" and "hates conservatives even more," Cruz tried out his Reagan impression and previewed his strategy of going "over the heads of reporters" using social media and conservative news outlets.
"It's easier now, we've got social media, we've got Facebook, we've got Twitter, we've got, God bless Fox News, we've got the internet, we've got the Drudge Report, we've got talk radio, we have all the tools," Cruz said. "The media gate keepers are hopeless, but we can go directly to the people with the truth."
Watch video below, via Fox News:
[Photo via screengrab]
— —
>> Follow Matt Wilstein (@TheMattWilstein) on Twitter
Have a tip we should know? tips@mediaite.com