President Obama Admits To Barbara Walters: Deep Down 'There's A Laziness In Me'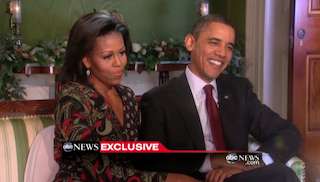 Tonight on the 20/20 holiday special (that's the one where Sam Donaldson buys a sickly Christmas tree for the pageant and everyone makes fun of him), ABC will air a special interview that Barbara Walters did with Barack and Michelle Obama in which, presumably, Walters explains to them just why they're so much less fascinating than the Kardashians.
A few bits and pieces from the interview have surfaced (Barack apparently has no "peeves" about Michelle. Awwww!), but Politico is now reporting on what is probably the most interesting moment: Obama admitting that he has an ingrained Hawaiian "laziness" to him.
It's interesting because we can only imagine that he said this while affixing a giant bullseye to his back and carrying a sign which reads "Conservatives, have at 'em!!!"
From Politico:
"President Obama admits says his worst trait is that he's a little bit lazy and blames his Aloha State upbringing for his penchant for taking it easy.

'There is a deep down, underneath all the work I do, I think there's a laziness in me,' Obama said in his interview with Barbara Walters that airs Friday night on ABC.

'It's probably from, you know, growing up in Hawaii, and it's sunny outside and sitting on the beach.'"
Ugh.
Does that sound entertaining to you? Well, if you're a fan of right wing media, you better hope it is because you're probably going to be seeing that clip about 5,000,000 times in the next week. Seriously, just imagining it is actually making animated Christmas specials starring the past and present hosts of 20/20 seem really palatable.
Watch the 'laziness' answer from ABC below:
Have a tip we should know? tips@mediaite.com