'Cult Of The Personality' Led To Obama's 2012 Victory, Former San Francisco Mayor Tells MSNBC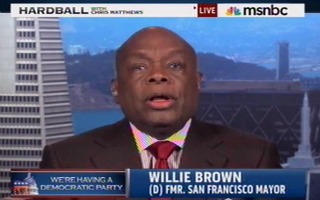 In a segment on MSNBC's Hardball about the dynamics that lead to a victory for President Barack Obama in the 2012 elections, former San Francisco Mayor Willie Brown said that he found the Democratic Party's fortune in the last cycle not necessarily indicative of future success. Brown said that Democrats did not win races at the state-level in the numbers they should have and, in combination with Mitt Romney's weak candidacy, the "cult of the personality" around Obama was more responsible for his victory than the Democratic Party's appeal.

RELATED: All Smiles At MSNBC As Obama Victory Appears Imminent
Michael Smerconish opened the segment by asking if the 2012 election results herald a more progressive future with an ascendant liberal collation. The Nation columnist John Nichols said that the coalition of voters the president assembled in 2012 was impressive and would be difficult to defeat. However, he cautioned that holding that coalition together without Obama on the ballot in 2016 would be a challenge.
Brown interjected, saying that the results in 2012 did not make him feel secure in the Democratic Party's prospects for electoral success in the immediate future.
"I believe that it would have been a more telling benefit for the party if it had been Nancy Pelosi reemerging as the Speaker of the House, and if Democratic governors had won in the numbers that they needed to win in, as well as legislative bodies being dominated by Democrats," Brown replied.
"I think, the cult of the personality had a lot more to do with the end results this time around, in addition thereto, the defective candidacy of the Republican nominee," Brown added.
Watch the clip below via MSNBC:
> >Follow Noah Rothman (@Noah_C_Rothman) on Twitter
Have a tip we should know? tips@mediaite.com