Cuomo Calls Out Clinton Advisor for Dodging Wikileaks Q: 'You Don't Want to Own What You Said!'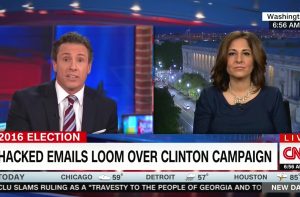 CNN's Chris Cuomo butted heads with Center for American Progress president Neera Tanden Thursday after she refused a discuss a damaging email she sent that was uncovered by the hack of Hillary Clinton campaign chairman John Podesta's emails.
The New Day host asked Tanden about an email released by Wikileaks, in which she strongly criticized Clinton's explanation for her private email server. "Her inability to just do a national interview and communicate genuine feelings of remorse and regret is now, I fear, becoming a character problem," she wrote in 2015.
"You know, I know that Russia and other forces would love us to have a debate," Tanden responded. "This is exactly what they want, they want us to have a debate of the internal structure of Hillary's campaign, what's true, what's not true. I'm just not going to play that, I'm sorry."
Cuomo wasn't buying that. "If this email were from [Trump campaign manager] Kellyanne Conway to [Citizens United president] Dave Bossie, you would be giving me all your deepest thoughts about it right now," he argued. "You don't like it because it's your e-mail. You're ducking it! You're not having high ground here."
"That's absolutely false," she protested. "I actually would not be doing that. You can see in other areas where emails have been used on any other issue, I've taken the same position."
"When [Trump's] taxes came out, the Clinton campaign couldn't stop talking about it!" Cuomo retorted, noting they were illegally released. But Tanden argued that there was a difference in having personal information leaked and having it stolen.
"But you have to understand, not just to me, but to the outside, your emails are what they are," Cuomo said. "Now, if you say, 'I never said this,' that's something different. If you say, 'This isn't me, I didn't write that,' that is a legitimate basis."
"Otherwise it seems like you're ducking it because you don't want to own what you said," he concluded.
"I'm not not owning it. I'm not owning it," Tanden said. "I am saying we shouldn't really be dealing with people's private emails."
Watch above, via CNN.
[Image via screengrab]
—
>>Follow Alex Griswold (@HashtagGriswold) on Twitter
Have a tip we should know? tips@mediaite.com