Cuomo Challenges Carson: You Think Gays Get More Legal Protections than Christians?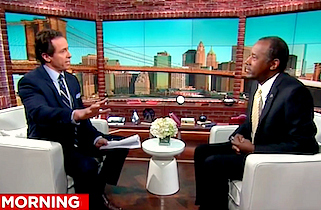 CNN anchor Chris Cuomo's interviews with neurosurgeon headline generator Ben Carson have caused some trouble for the latter, to the point that he's said he won't discuss LGBT issues anymore. Nonetheless Cuomo pinned him down on the subject Thursday morning, appearing bewildered when Carson intimated that the LGBT community was a more protected class than Christians under the Constitution.
"I would like to see as much emphasis on the rights of Christians…as there is to some of the other groups," Carson said. "I would like to see a much greater conservation about Christians and their rights. Why are we not talking about that?"
"We are right now," Cuomo said. "The LGBT community gets far less legal protection, as you know—"
"No, not as I know," Carson objected.
"How do you not know that?" Cuomo asked.
RELATED: Ben Carson Has a Hot Take on Indiana's 'Religious Freedom' Law
"The important thing is for us as a nation to recognize that all citizens of the United States are protected by our Constitution," Carson said. "We need to stop deciding that one group versus another is the flavor of the day."
Carson suggested CNN run an hour-long special with Christian leaders and "facts" (which just happens to fit into CNN's original programming paradigm!). "I think it's a personal issue," Carson said. "I respect the LGBT community. I respect the traditional marriage community. I think that's enough to be said about it."
Cuomo also asked about gay conversion therapy, which the Obama administration said yesterday it opposed. Carson would not say whether or not he believed it worked, only that it should be a personal decision.
Watch the clip below, via CNN:
[Image via screengrab]
——
>> Follow Evan McMurry (@evanmcmurry) on Twitter
Have a tip we should know? tips@mediaite.com