Cuomo Grills Atty. for Tulsa Reserve Deputy: Desire to 'Play Cop' Ended in Man's Death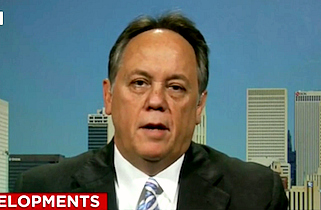 CNN's Chris Cuomo quizzed the attorney for Robert Bates, an Oklahoma reserve deputy who accidentally killed suspect Eric Harris last weekend when he grabbed his gun instead of his taser. Bates, a millionaire insurance executive who has been accused of buying his way onto the force, has been charged with second-degree manslaughter, which his attorney Scott Wood termed too harsh.
"Yes, it was accidental, but you want to play cop, you put on the taser and the weapon, you don't know which one to use — you're taking a risk when you go out there," Cuomo said. "Mr. Bates had to know that and his lack of experience ended in another man's death."
"I don't think characterizing his lack of experience is fair under the circumstances," Wood replied, arguing that Bates has been on operations before but was always used peripherally, and that he was 1/3 mile away from the gun bust until Harris essentially ran straight toward him. "In this case, Mr. Harris, so to speak, took the fight to him."
RELATED: Brother of Victim Killed by Volunteer Cop: Explanation 'Makes No Sense'
"That's more concerning, not less," Cuomo said, "because a 73-year-old man who basically, as his family says, paid his way to play cop, shouldn't be in an operation like this. Don't you acknowledge that?"
"No, we don't," Wood said. "That's simply not true. He is a certified reserve officer in the state of Oklahoma. if he wanted to go get in a patrol car and make an arrest, he is certainly legally authorized to do that in this state. And he chose to work with a the drug task force, and has a certain affinity to fighting the drug problem in the community, and his contributions to the drug task force and the Sheriff office has had a dramatic impact over the last five or six years."
Wood went on to say that criticizing Bates for inserting himself was unfair, given that reserve deputies are duty bound to interfere in dangerous situations. Cuomo pointed out that Wood wanted his client to be simultaneously 1/3 mile away and thus uninvolved, while also duty bound to insert himself into a present situation.
Watch the clip below, via CNN:
[Image via screengrab]
——
>> Follow Evan McMurry (@evanmcmurry) on Twitter
Have a tip we should know? tips@mediaite.com