Cuomo Rematches Against FRC Spox: Just Admit 'You're About Stopping LGBT Progress'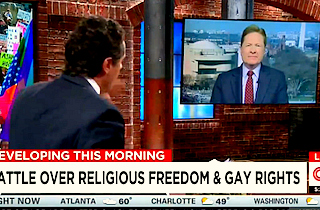 New Day host Chris Cuomo sparred with Family Research Center's Peter Sprigg in a rematch of last week's testy battle over Indiana's Religious Freedom Restoration Act. Previously Cuomo focused on how Sprigg squared the bill's discriminatory aspects with his Christian faith; this time Cuomo challenged Sprigg to admit his organization wouldn't be supporting the bill if it didn't target the LGBT community.
Sprigg had argued that compelling a Christian-owned business to serve a gay wedding forced the owners to violate their beliefs. Cuomo countered that religious exemptions are somehow never invoked to not serve a wedding that grew out of an adulterous relationship. "We don't hear that," Cuomo said. "Always gays."
"And it is no coincidence that it comes from you," Cuomo said. "You're not about protecting a religious minority. You are about trying to stop the progress of the LGBT community."
"That's not true," Sprigg said. "This bill is about protecting religious freedom for everybody…If it doesn't protect everybody, it's not freedom."
"It may protect all religions, but we're only hearing from you guys," Cuomo said. "When you say it has nothing to do with the LGBT community, that's what you're best known for: saying that homosexuality is destructive to society, that it should be criminal behavior…This is your attempt to insulate yourself from the movement in the culture of the country toward gay marriage and LGBT acceptance. Why not just say it?…Why not be honest?"
"Because that's not the issue we're discussing right now," Sprigg objected.
"But that's your motivation," Cuomo said. "You say misinformation about the perception of the law — it's your whole reason for being involved."
"This law is to protect everybody," Sprigg said. "It protects people who oppose same-sex marriage, it protects people who support same-sex marriage."
"You wouldn't need it if you supported same-sex marriage," Cuomo pointed out.
Watch the clip below, via CNN:
[Image via screengrab]
——
>> Follow Evan McMurry (@evanmcmurry) on Twitter
Have a tip we should know? tips@mediaite.com