Current TV Source: Keith Olbermann Has Not Responded To Request To Cover New Hampshire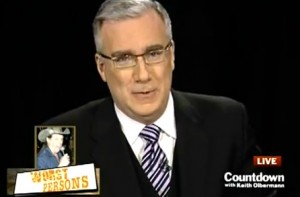 The plot of the bewildering, apparently one-sided dispute between Countdown host Keith Olbermann and Current TV is thinning as it thickens. A source at the network tells Mediaite that, despite the ominous Hollywood Reporter story that "lawyers" are discussing the dustup over Current's Iowa Caucus coverage, Olbermann's attorneys have not been in touch with the network on that matter. The source also says that the network has invited Olbermann to anchor Tuesday's New Hampshire primary coverage, but has not gotten a response.
The whole thing began when The New York Times' Brian Stelter reported on possible tensions between Olbermann and Current TV, as manifested by his scheduled (as in, ahead of time) absence from Current's Iowa Caucus coverage. That made it all the more strange when, several days later, Olbermann tweeted his followers that he was "headed into the office now" for Countdown's return from holiday hiatus, followed by a more dramatic tweet that advised viewers "So as not to mislead: I am informed Countdown will not be on tonight. I must defer on all questions to @JoelHyatt @AlGore and@Current."
But according to the network, Olbermann was more than "informed" about his absence from the schedule Tuesday night; he was responsible for it. A Current source confirmed to Mediaite that Olbermann was kept appraised of the Iowa Caucus plans at every turn, and acknowledged as much, in at least four or five emails dating back to mid-November. In those emails, Current executives tried to secure Olbermann's participation in the program, as they have previously stated, but he refused.
Then, last night, The Hollywood Reporter broke news that the whole thing had gone to the lawyers, but a source at the network says that, while Olbermann's representatives are frequently in contact with Current as a routine matter of course, they have not been contacted about this matter. The source also says that the network has invited Olbermann to anchor Tuesday's New Hampshire primary coverage, but has not gotten a response.
Olbermann told THR that he "was not given a legitimate opportunity to host under acceptable conditions," adding, "They know it and we know it. Telling half the story is wrong."
The half of the story that Olbermann isn't telling (at least not yet) is why he feigned ignorance of the schedule change, an apparent game of chicken to force his disgruntlement into the public eye.
There has been speculation that the rift might involve technical issues with the set that caused Olbermann to switch to a set-less black background, but according to the network, those issues were quickly resolved. The continued use of the non-set is Olbermann's choice, perhaps stylistically, or perhaps as some kind of statement.
Current TV hasn't said much about the dispute publicly, perhaps in a wise effort not to antagonize their franchise player, but even behind the scenes, the source of the agita seems to be an enigma. According to Olbermann's manager, he's not looking to leave the network, but "was unable to answer other questions because of confidentiality clauses in the anchorman's contract, which is believed to last five years and be worth $50 million total."
So, what's the problem? According to Olbermann's manager, he can't say, and according to Current TV, they don't know. Current obviously wants to keep Olbermann on board, as he is key to the aggressive programming strategy that they hope will result in a 24 hour slate of news and commentary this year. An unidentified Current exec told The Wrap "I hope Keith is part of our future, but it's up to Keith," adding, "Keith set us in the right direction and we're on that path now … and as I've learned over the years, everybody is replaceable."
That may be true, but anyone rooting for the success of a 24-hour news home for progressive programming, and anyone who values a diverse media landscape, ought to hope that it doesn't come to that. One cause for optimism on that front could be the fact that, given his employment history, Keith Olbermann can jump, but he doesn't seem to have anywhere to land.
We reached out to Mr. Olbermann for comment on this story, but as of this writing, have not received a response. We will, of course, update you if and when we do.
Have a tip we should know? tips@mediaite.com