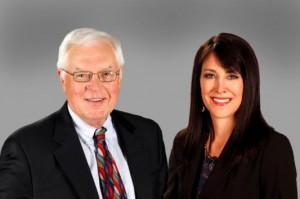 A few weeks ago, we broke the news that Current TV had moved one step closer to its goal of 24 hour news and political programming with the announcement of a morning block featuring liberal radio hosts Bill Press and Stephanie Miller. Today, Current announced that the pair will debut this Monday morning, March 26, and that their shows will also feature live hourly news breaks.
Current will simulcast both hosts' radio programs, with Press' Current broadcast to be dubbed Full Court Press, while Miller's show will be called Talking Liberally: The Stephanie Miller Show. Broadcasting from Los Angeles, Stephanie Miller is a well-known figure among liberals and progressives, thanks to a long broadcasting career that currently finds her on XM's America Left.
Bill Press is one of the more obvious choices to help launch Current's foray into dayside programming. One of the few progressive radio hosts to have found widespread success, he's also a fixture in Washington, DC, a crucial feature if Current is to challenge the dominant (in terms of relevance) Morning Joe. He's also the rare breed of firebreather who also knows how to play well with the other side.
Interestingly, both Press and Miller have a 6 Degrees of Pat Buchanan connection. Bill Press was co-host of Buchanan and Press with Pat Buchanan on MSNBC in the early aughts, and Stephanie Miller co-hosted CNBC's Equal Time with Buchanan's sister, Bay Buchanan, in the nineties.
From Current TV's press release:
Current TV today announced that the new morning news block featuring live simulcasts of "Full Court Press: The Bill Press Show" from 6am-9am ET and "Talking Liberally: The Stephanie Miller Show" from 9am-12pm ET will debut on Monday, March 26th. Each program will give viewers live access to interviews with newsmakers, political commentary and news analysis, and the only progressive voices on cable news in the mornings.

Also launching on March 26th will be top-of-the-hour two-minute political news breaks from Current TV. Beginning at 6am ET and ending with the 11am ET hour, each live break will feature up-to-the minute updates on the morning's political news. Fans of the radio programs can also go online to participate in daily live chats during each program as well as read blog posts and find background on Current's two newest personalities at current.com/billpress and current.com/stephaniemiller.

The launch of the new morning news block further strengthens Current's line-up of political commentary and news programs which include "Countdown with Keith Olbermann," "The Young Turks with Cenk Uygur," and "The War Room with Jennifer Granholm".

Senator Chris Coons, (D-Del.); Nia-Malika Henderson, Washington Post; Faiz Shakir, Think Progress; and Lara Setrakian of ABC News and Bloomberg are all scheduled to appear during the premiere week of "Full Court Press." The first week of "Talking Liberally" will feature Senator Byron Dorgan (ND – Former U.S. Senator and Chairman of The Senate Committee on Energy), as well as comedienne Kathleen Madigan.

"The Bill Press Show" is a nationally syndicated radio program featuring Press addressing, commenting, and analyzing the issues of the day. Bill Press began his career as a political insider and media commentator on KABC-TV and KCOP-TV, both in Los Angeles. Over the years, he has received numerous awards for his work, including four Emmys and a Golden Mike Award. The former co-host of MSNBC's "Buchanan and Press," CNN's "Crossfire" and "The Spin Room," Press has built a national reputation on thought-provoking and humorous insights from the left side of the political aisle. Press is the author of six books: Spin This! (Atria, 2002), Bush Must Go! (Dutton Books, 2004), How The Republicans Stole Christmas (Doubleday, 2005), Trainwreck (Wiley, 2008), Toxic Talk (Thomas Dunne Books, 2010), and his latest, The Obama Hate Machine (Thomas Dunne Books, 2012). Press attends the daily White House press briefing and writes a syndicated newspaper column, distributed weekly by Tribune Media Services. "The Bill Press Show" can be found online at billpressshow.com or on Twitter at @BPshow.

Since its September 2004 debut, The Stephanie Miller Show, which is distributed on America's largest radio network, Dial-Global, and heard on satellite radio via SiriusXM, has become the top show in Progressive Talk. Stephanie was named Talk Radio's Woman of the Year by Talkers Magazine and her Sexy Liberal Comedy Tour (the No. 1 comedy tour in the country) continues to break box office records and remains the first political comedy album to reach No. 1 on the comedy charts for iTunes, Amazon and Billboard. The Stephanie Miller Show and Sexy Liberal Comedy Tour also feature comedians Hal Sparks and John Fugelsang who make regular weekly appearances on the show. Fans can find "The Stephanie Miller Show" online at Stephaniemiller.com or on Twitter at @SMShow and @SexyLiberal, with a combined reach of over 70,000 followers.
Have a tip we should know? tips@mediaite.com