Current TV's Cenk Uygur Issues $10,000 Challenge To Rush Limbaugh: 'Prove Your Ratings'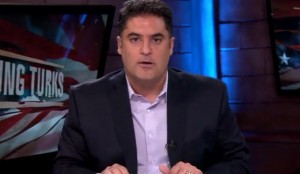 Conservative radio giant Rush Limbaugh has always enjoyed a certain immunity to public pressure because of his total dominance of talk radio, but this past weekend, he felt compelled to issue a walletfelt apology for a sustained three-day verbal assault on Georgetown law student Sandra Fluke that included calling her a "slut" and a "prostitute," and demanding sex tapes for his own personal use.
The Young Turks' Cenk Uygur sees the apology not just as a response to advertiser pullouts, but as an indication that Limbaugh's ratings are actually a lot weaker than people realize. He issued a $10,000 challenge for Limbaugh to prove his self-proclaimed 20 million listeners.
While people with functioning brains are doubting the sincerity of Limbaugh's apology, most seem to be missing the significance of it. As far as I can tell, Limbaugh has only apologized two other times, and not in response to public pressure.
During the 2008 presidential campaign, Limbaugh apologized to then-Sen. Barack Obama for laughing at a caller who told him that Sen. Obama reminded her daughter of Curious George. Limbaugh apologized right after the commercial break that followed the call, saying he "never heard of Curious George until that caller."
The other was when he apologized to me, for completely misreading a piece of commentary that I had written, and still managed to screw up during his apology.
Limbaugh's usual response to public pressure is to double down, as he did (twice) with Sandra Fluke. In January of last year, for example, Limbaugh was pressured to apologize for mocking the speech of Chinese President Hu Jintao, and responded by sarcastically noting that "those were comments, and they were mocking and insulting, and 3,000 years of Chinese history blown up yesterday in 18 seconds right here on the EIB Network."
But as Cenk Uygur points out, the 20 million listener figure that Limbaugh has been touting for years has never been supported by a shred of data, and even the notoriously shaky radio industry estimates are now in doubt. The more popularly-used estimates for Limbaugh's audience is around 15 million weekly listeners, or around 3.5 million a day. But those figures were based on an antiquated diary system. As Uygur explains, when the radio industry switched to a less-fallible system, a lot of radio people got some bad news:
Then in 2007, radio started switching over to something called Portable People Meters. This did not rely on human memory. It's a device that picks up the radio signal wherever you are and records the station you're actually listening to. So, what happened? It turns out people were listening to a lot more music than they realized and a lot less talk. So, the sports stations, the hot talk and the conservative talk stations were all hurt.

Last year, Crain's New York Business reported that Rush Limbaugh's ratings were down 33%. The portable people meters have been expanding to different markets throughout these years (they didn't just replace all of the diaries instantly in 2007, it's taken a while). So, it's unclear how much Rush was hurt by the more accurate readings last year and how much people just stopped listening to him.
Cenk concludes that "Rush is in big trouble now as more and more advertisers peel off. He's in a tail spin. Why else would you triple down on the "slut" comments from Wednesday to Friday and then issue an apology on Saturday? He has over-reached (in his offensive comments) and undelivered (in his ratings). That's a lethal combo."
"So," Uygur continues, "I'm issuing a challenge to him – show us your ratings. He won't do it because he's embarrassed by them. He has never produced evidence of his ratings and he certainly won't do it now. In fact, I'll make a Mitt Romney like wager. I'll give him $10,000 if he can show us his 20 million listeners."
To be fair, while reporting on radio ratings is notoriously sketchy (as are the ratings themselves), most every radio industry type agrees that Limbaugh has the largest audience, far and away. However, whatever the true weekly audience figure is, you've got to remember that Limbaugh also has a huge lead in the number of stations he's carried on (a product of his syndicator's early adoption of the barter system), over a thousand, so even if he averages 3.5 million listeners a day, that's only an average of about 3,500 listeners per station. That's enough to make him the number one talk radio host in the country, but is is enough to get stations to overlook fleeing advertisers?
Throughout his years as radio's most successful lightning rod, there has always been a sense that Rush Limbaugh is too big to fail. As pressure mounts from advertisers and others, time will tell that tale, even if Rush Limbaugh won't.
Have a tip we should know? tips@mediaite.com