Current TV's Cenk Uygur Praises Rand Paul As 'Constitutional Hero' For Drones Filibuster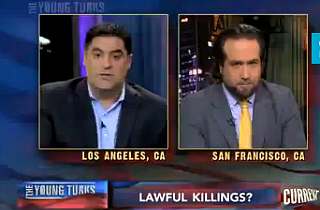 On his Current TV show last night, progressive host Cenk Uygur praised Sen. Rand Paul (R-KY) as a "constitutional hero" for his nearly 13-hour-long filibuster of President Obama's CIA pick because of the administration's stance on using targeted assassinations against American citizens on U.S. soil.
Paul led the filibuster, with support from several other Republicans and one Democrat, in an effort to protest the administration's secretive drone program that authorizes the president to assassinate American citizens deemed an "imminent threat" to U.S. security.
Despite having been a harsh critic of Sen. Paul in the past, "I love that [Paul] is doing this," Uygur told his Current TV colleague Michael Shure. "I don't care what his opinions on other things are. You can call him anything you like, but here he happens to be a constitutional hero," he added.
Shure responded that we already grant similar authority to police officers, allowing them to shoot suspected criminals who may pose an "imminent threat." No one disputes that policy, Shure said in taking issue with Rand's filibuster.
"We're talking about a scenario where we say, 'I'm not giving you a chance to surrender, I'm not giving you your rights; I'm dropping a bomb on you and executing you,'" Uygur replied. "That's a totally different scenario."
Shure was unconvinced, continuing to tell Uygur that the president is authorized by the Constitution to protect American citizens on American soil.
"Oh, that's nonsense!" Uygur fired back. "So broad!"
He then tore into Shure: "So Michael, under that description, 'Hey, I've got to protect people. You're a crazy, dangerous liberal in a War Room.' Can he execute you tomorrow?"
Watch below, via Current:
[h/t RawStory]
— —
>> Follow Andrew Kirell (@AndrewKirell) on Twitter
Have a tip we should know? tips@mediaite.com