Cynicism Test: "Tween Of Peace" Attempts To Build "Children's Peace Forest" In North Korea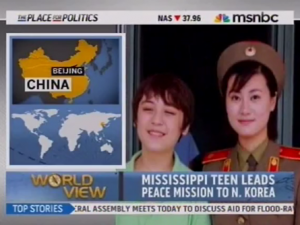 Do you ever feel like following politics and the news every day has made you a colder more embittered person? That listening to countless talking heads scream at each other nonstop has sucked all of the idealism out of you soul, leaving nothing but a cold, dry husk? Well, we here at Mediaite have devised a test to find out if that's true. Simply watch today's news report from MSNBC about the "tween of peace," a 13 year old who traveled to North Korea to persuade Kim Jong-il to build a "children's peace forest." If you can get through all of it without scratching your eyes out, then congratulations, you are not a heartless cynic!
The kid is Jonathan Lee, who just got back from a peace mission in North Korea. His goal was to meet with Kim Jong-il and discuss building the forest in the demilitarized zone between North and South Korea. While Lee, who is part Korean, had a good time and was surprised how friendly the North Koreans were, the nation's supreme leader rudely refused to meet with him. Gosh, what a jerk! I'm starting to think that Kim guy isn't such a nice dude.
Anyway, watch the video and see for yourself if you can pass the Cynicism Test. Unfortunately, this writer failed. As much as I respect the kid's bravery and wonderful intentions, I couldn't help but think how awesome it would be to see he and conserva-tot Jonathan Krohn fight it out in a steel cage match. Seriously, someone needs to make a Battle of the Jonathans happen. Until then, I'll just get back to trying to melt the layers of ice that have clearly formed around my heart.
Have a tip we should know? tips@mediaite.com