D.C. Council Votes Unanimously to Urge Redskins to Change 'Racist and Derogatory' Name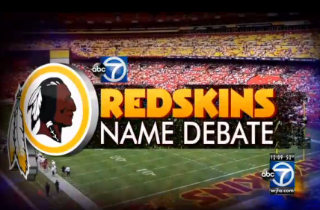 The District of Columbia's City Council voted unanimously Tuesday to approve a measure urging the Washington Redskins football franchise to change its nickname because of its "racist and derogatory" nature.
Ten of the 13 D.C. council members voted yes on the measure; two were absent; and one voted "present." No one voted against the bill that has no actual legislative impact. The council has no official control over the football team that resides in Landover, Maryland and practices in Virginia.
Councilmember David Grosso originally led the charge behind the bill calling for the team to rename itself the Washington Redtails in honor of the Tuskegee Airmen, but the bill passed this afternoon contains no such language. The councilman did, however, manage to announce before the vote that the current name is "racist and derogatory."
"Native Americans throughout the country consider the term 'redskin' a racial derogatory slur akin to the 'N-word' among African-Americans or the 'W-word' among Latinos," he said in the speech. "Enough is enough."
Despite the council's vote, polling shows that most locals don't want to see a name change. Nevertheless, Grosso said in his speech, "I do not care what the polls indicate." He added: "A name change will not in any way jeopardize the loyalty that the fans have for this team."
The team itself has, thus far, remained steadfast in its refusal to change the name. A recent campaign called for fans to speak out and support the team.
Watch a report below, via WJLA:
[h/t WJLA]
[image via screengrab]
— —
>> Follow Andrew Kirell (@AndrewKirell) on Twitter
Have a tip we should know? [email protected]