DC Mansion Murder Suspect's Lawyer: He Couldn't Have Done It Because He Doesn't Like Pizza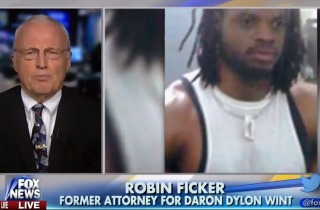 The former lawyer of D.C. quadruple murder suspect Daron Dylon Wint claimed over the weekend that the 34-year-old couldn't possibly have committed the grisly killings because… he doesn't like pizza. Appearing on Fox & Friends on Monday morning, that lawyer — Robin Ficker — battled Kimberly Guilfoyle over that extraordinary claim.
For those Mediaite readers who don't recall, Ficker previously battled Fox's Megyn Kelly over similarly bizarre denial of Wint's possible guilt in the slaying of Savvas Savopoulos, 46; wife Amy, 47; son Phillip, 10; and housekeeper Veralicia Figueroa, 57.
In this debate, Ficker maintained that DNA evidence is "junk science," and that the traces of Wint's DNA found on pizza crust in the Savopoulos home indicate nothing about whether Wint was present during the killings.
"[Wint's] mother doesn't like pizza, his sister doesn't like pizza, his brother doesn't like pizza," Ficker told Guilfoyle. "He's got five sisters, three brothers, they're from Guyana. There's no Papa Johns. It's a British-speaking country in South America. It has 750,000 people. It's the size of Kansas. They don't have pizza there."
Whether or not it's his top food choice, Guilfoyle fired back, does not invalidate the fact that his DNA was found on pizza at the torched home.
"I bet you have someone's DNA in your house who has never lived there. Most people do," Ficker replied. "If I cut myself in this interview room and my DNA is left here, and a crime is committed here 12 hours later, does that mean I committed the crime? Of course it doesn't. That is not his food choice. DNA is a junk science."
Watch the full interview below, via Fox News:
— —
Have a tip we should know? tips@mediaite.com