Daily Beast Profile: John Edwards Spends Most Of His Time In The Cemetery These Days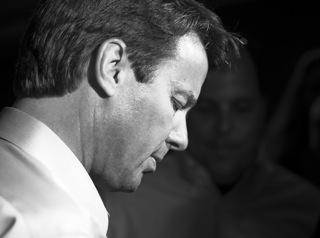 What does a politician do with his days after being disgraced in public, indicted on federal charges and losing a wife that left video testimony against him for his upcoming trial? Spend a lot of time with his late loved ones, according to a recent profile of former Vice Presidential candidate John Edwards. Daily Beast writer Michelle Cottle spent Edwards' birthday in his native Chapel Hill, where residents noted he was so despised he was mostly seen alone these days, by tour guides at the local cemetery.
Edwards' career freefall took an unprecedented turn for the worse when Edwards was indicted a few months ago, but all signs point to him being disgraced and hated throughout his hometown long before his woes developed a legal nature. Cottle notes that a local bar famous for its photos of celebrities is regularly inundated with requests to replace his photo with one of his wife, Elizabeth, or at least relocate his to the bathroom. While there is sympathy for his children, residents speak of him as a pariah so scurrilous few will interact with him, and his disgrace is no laughing matter:
The first, inescapable fact on the ground is that the folks around Raleigh and Chapel Hill are not yet in a forgiving mood. While legal experts debate the merits of the Justice Department's case against Edwards, the hometown crowd has issued its own, more personal verdict: Depending on who you ask, the man is "a snake," "a scumbag," or, as Betty Henderson, receptionist at the Edwardses' longtime church home in Raleigh, eloquently put it, "a narcissist so in love with himself that he can't see past his own desires."
Even on his decline, there was a time, Cottle writes, when Edwards was a character to be ridiculed and not so sternly scorned. He became, to a certain extent, that guy at everyone's local bar, flirting with college girls and drinking away his problems because there was nothing better to do. "Particularly during the period when Elizabeth kicked him out of the house and he was living in an apartment near the main drag where UNC students congregate, Edwards was a fixture at area watering holes," Cottle notes, adding that, yes, people used to actually talk to him. The image she recalls most vividly is one of the stereotypical failed man of Hollywood– somewhere between Nicolas Cage in Leaving Las Vegas or an extra in an obscure 1980s Mickey Rourke movie. It is difficult to equate that man with a politician who could have been a heartbeat away from the presidency merely seven years ago.
Yet, somehow, who Edwards is now is even more tragic than he was while Elizabeth Edwards was still alive– the days of pathetic bar-hobbling seem to have been left behind to spend more time with his family. "According to cemetery staff, the senator comes frequently to visit his wife and son," Cottle notes of Edwards, adding that, given the number of Confederate tombs in the area, historical tours often pass by. "Observes one staffer," she notes, "'How humiliating it must be for him to be sitting out there with all those people [gawking and whispering.]'"
Edwards appears far beyond the point of no return, at least when it comes to his political career, and having an ice-cold home such as this to limp back to makes prison sound slightly more comfortable, if at least an escape from the life Cottle paints for him. As his case proceeds through the legal process, Edwards will soon be back in the spotlight for all the wrong reasons, and perhaps finally able to escape his hometown, though it may serve as a frying pan from which to leap straight into a burning media firestorm all over again.
Have a tip we should know? [email protected]