Daily Show Mocks Conservatives For Loving 'Profiling' On Race & Religion, But Not Own Political Beliefs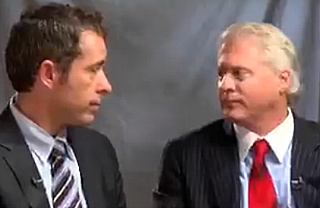 Last night's Daily Show took a hammer to what the show deemed a hypocrisy in the conservative cries of "profiling" during the IRS scandal while vigorously supporting the police profiling of Muslims, Latinos, and black people. Correspondent Jason Jones sat down with conservative author and TV personality Wayne Allyn Root to talk about "the only unfair thing ever" — being profiled by the Internal Revenue Service — before bringing out several minority youths who've been regularly profiled by the government to share their thoughts with Root.
Root claims to have been one of the many conservatives intentionally targeted by the IRS, and he told Jones that, although he has no evidence to support his belief, his recent audit was the result of someone saying "Let's get that guy" for his anti-Obama beliefs. Jones conceded that despite wanting to dismiss Root's bluster simply because he's a conservative, he cannot, because the IRS did indeed target conservatives on purpose.
However, Jones caught Root in a contradiction by having him decry the indignity of being "profiled," while having written in the past on the excellence of police using profiling tactics on Muslims and other minorities.
"Though it appears to be okay to target someone for their religious beliefs… or skin color… it's just not okay to target for their political beliefs," Jones gleaned. Root continued to count himself into soundbites on how police profiling is completely different from the sort of actions the IRS took against conservative groups.
"Last I checked, the profiling you're talking about has never ruined a human being's life in the history of the world," Root declared to Jones.
Next thing we know: Jones brings out a Muslim woman, a Dominican male, and a black male. All of whom believe they've had their young lives ruined or harassed by profiling.
UPDATE: Root has responded to the interview, calling the pre-taped, edited segment a "fraud." Read his full reaction here.
Watch to see what happens in the full segment below, via Comedy Central:
— —
>> Follow Andrew Kirell (@AndrewKirell) on Twitter
Have a tip we should know? tips@mediaite.com