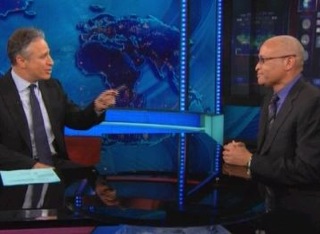 The Daily Show has been relatively mum about the Trayvon Martin case since their first report on it more than a week ago, but today Jon Stewart didn't have to navigate the waters of such a delicate case alone: he had Larry Wilmore, his Senior Black Correspondent, to call a "racist time out" where they could talk about the issue without anyone on any side being flatly accused of racism.

RELATED: Jon Stewart Returns With Hoodie-Tastic Trayvon Martin Outrage Roundup
Wilmore began to analyze the coverage of Martin so far– from the argument that there were no marches against black-on-black crime (to this he responded with an extensive list of marches against black-on-black crime in the country in the last few months) to the accusations on both sides. "Since the court of public opinion is the only one who would take [the case], everyone feels the need to jump in and condemn or defend George Zimmerman," Wilmore argued. To some, he was a a victim of the media, to others, "Elmer Fudd hunting down black people."
Wilmore noted also the attacks on all sides on people in the media talking about the case, particularly noting a Twitter user telling Don Lemon to "go work at BET"– "Is that Twitterspeak for 'go back to Africa'?" So Wilmore and Stewart took a "racist time out"– from then on, "nobody is racist." Stewart had to avoid a few traps– calling Zimmerman racist, or the police, finally settling on "the benefit of the doubt" as being racist." Wilmore agreed, joking that the benefit of the doubt "is the one entitlement black people can't get from the government!" (and telling the audience to hush over being offended). He had a few examples to prove it– "when Dick Cheney shot his buddy in the face, it was just two white buddies having fun! Can you imagine if Obama shot Eric Holder in the face?" Someone, he asserted, would be going to jail.
The segment via Comedy Central below:

Have a tip we should know? tips@mediaite.com