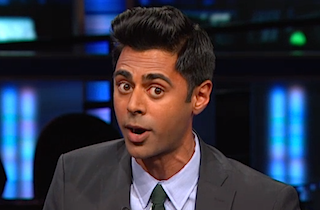 Following Rupert Murdoch's recent tweet placing the blame for last week's Paris terrorist attacks on moderate Muslims, The Daily Show's Jon Stewart invited the show's new Muslim correspondent, Hasan Minhaj, along with Jason Jones and Jessica Williams, to respond to the 21st Century Fox mogul in a segment called "The Condemnologists."
One by one, the three correspondents followed Murdoch's advice and condemned the terrorist acts, with Minhaj taking the strongest stance: "I, as a Muslim, of course, absolutely, 100%, unequivocally condemn this actions." But the rest of the panel wasn't buying it.
"Oh, I know what's going on," Minhaj said. "Because I'm Muslim, I've got to be 'condemnier' than you guys." As he explained, even though Muslim leaders around the world have released statements against the attacks and Muslim leaders marched with "I am Jewish" signs in Paris, people still don't think they've done enough.
RELATED: Aziz Ansari Mocks Rupert Murdoch for Saying All Muslims Responsible for 'Jihadist Cancer'
From there, Minhaj said if he was going to be "held responsible" for the shooting in Paris, then Jason Jones had to answer for a white guy bombing the NAACP and Jessica Williams had to answer for the black-on-black violence in Chicago.
This led Jon Stewart to declare, "Maybe it's not necessary for each individual to have to own the worst actions of the people in their community."
"Looks who's trying to get out this!" Minhaj replied. "Yeah, Mr. insider trading."
Watch video below, via Comedy Central:
[Photo via screengrab]
— —
>> Follow Matt Wilstein (@TheMattWilstein) on Twitter
Have a tip we should know? tips@mediaite.com