Daily Show's Wilmore on America's Cop vs. Black Problem: 'This Sh*t Has Got to Stop!'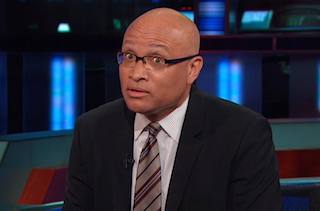 Jon Stewart opened last night's Daily Show by focusing on the Times Square Spider-Man who was arrested for punching a New York City cop in the face over the weekend, but then quickly shifted to a more serious police action: the chokehold that ended Staten Island man Eric Garner's life.
For this story, Stewart needed help from Senior Black Correspondent — and future host of Comedy Central's The Minority Report — Larry Wilmore. "This shit has got to stop already," he told the host.
When Stewart pointed out that white people get mistreated by the police as well, such as the college Occupy protesters who were pepper-sprayed in 2011, Wilmore replied, "Oh please, Jon, that's pepper-spray, they're just getting seasoned."
For contrast to Garner, Wilmore showed a clip of a white man in Michigan who brandished a rifle in front of the police before grabbing his crotch and making lewd gestures. And rather than rough him up, the cops sat him down on the curb for a polite chat. "You've got to be fucking kidding me!" Wilmore said.
"The only thing Eric Garner was brandishing was his black," Wilmore added, making sure to clarify that this "isn't a white-black issue, it's a cop-black issue." He agreed with Stewart that it could be something about the uniform that makes cops of all races treat black men differently.
As Wilmore put it, "I once dressed as a cop for Halloween, and by the end of the night I was choking brothers."
Watch video below, via Comedy Central:
[Photo via screengrab]
— —
>> Follow Matt Wilstein (@TheMattWilstein) on Twitter
Have a tip we should know? tips@mediaite.com