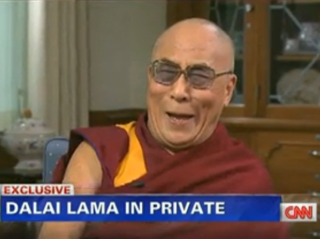 Tonight's episode of Piers Morgan Tonight was a special one– an hour with His Holiness the Dalai Lama, who answered an hour's worth of candid questions about everything from politics to his finest moments and, of course, sex. The Dalai Lama explained to Morgan why he had chosen a celibate lifestyle and the peace he acquired from it, and what exactly goes through his mind when an attractive woman walks by.

RELATED: Fox & Friends Marvels At Dalai Lama's Revelation To CNN, 'Channel No One Watches': 'I Love President Bush'
No, Morgan did not flat-out ask his favorite question, "Have you ever been properly in love?" but he got closer than anyone expected. In a segment dedicated to the Dalai Lama's lifestyle choices, he first explained his temporary vegetarianism (canceled by jaundice) and then whether a vow of celibacy is difficult to maintain. "No," the Dalai Lama responded, "if you just physically experience, then sometimes you may find a certain desire. But then, whole picture." Instead of asking if he had been in love, he asked whether he felt temptation, which the Dalai Lama responded of course he did. He noted that he advised people to watch the instability of married people, and the damage that divorce can do to children. "Married people, their mental state, their emotional state– too many ups and downs," he noted, "so in the long run, we have some advantage."
"Sometimes I see and feel, this is very nice! But then thinking, this is a real job… this is a real problem, too many problems," the Dalai Lama said amid laughs about women. He noted that he had so much control of his cognitive state that "even in dreams, when I see women, I remember– I am a monk.
Morgan inquired about drugs and alcohol as well– the Dalai Lama had had none. He did confess, however, that he once stuck his finger in a bottle of alcohol and thought it was sweet, but it was replaced with water when he requested it.
The segment via CNN below:

Have a tip we should know? tips@mediaite.com