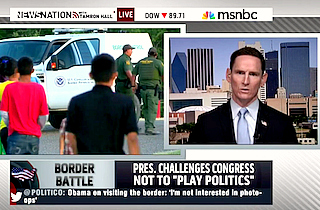 After conservative radio host Glenn Beck came under criticism from his own listeners this week for his intention to send aid to migrant children stranded on the border, MSNBC host Tamron Hall asked Dallas Judge Clay Jenkins how he responded.
"When you see someone like a Glenn Beck, a conservative hero and his own audience turning against him, some of them, when he says he wants to reach out to help these children, how do you process that?" Hall asked.
Jenkins, who has submitted a controversial proposal to house 2,000 of the children in Dallas, responded:
"I think that people need to put their partisan politics aside. If you want to listen to a leader, go ask your faith leader what you should do in a situation where children are alone and feel abandoned and are terrified in overcrowded conditions; where there are thirty children in a glass holding cell, pressing their faces against the glass so they can see their brothers and sisters who are moved away from them; where there are babies crying for their mother while being changed by border patrol agents and it smells like body odor because the children aren't bathed more than every few days. And ask yourself: what's the right thing to do? What does your Bible tell you? What do the words on the Statue of Liberty tell you? What do your American values tell you? If we stop looking at these children as others and invaders and aliens and we look at them as children and as human beings, then we'll know how to handle this humanitarian crisis."
Jenkins also called on Congress to pass President Barack Obama's proposed supplemental funding. "It's time for Congress to do its job," he said.
Watch the video below, via MSNBC:
[Image via screengrab]
——
>> Follow Evan McMurry (@evanmcmurry) on Twitter
Have a tip we should know? [email protected]