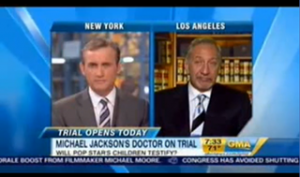 Former counsel for Michael Jackson, Mark Geragos and Mediaite's own Dan Abrams stopped by Good Morning America today to preview Doctor Conrad Murray's trail, set to start today. Murray has been charged in Jackson's death, and faces four years in prison and the loss of his medical license if found guilty. Proceedings will be televised and broadcast online — reporters and satellite trucks have already lined up outside the courthouse — and will play out as a somber final chapter in the media spectacle that was Jackson's life.
Kenny Ortega, Jackson's friend and choreographer, will be the first to be called to the stands because, as Abrams explained, "the teams are going to go chronologically" and he can best walk jurors through footage of Jackson's final rehearsals. "They're going to start with Ortega, who claims he warned Dr. Murray weeks beforehand, that Michael Jackson wasn't well, and that Conrad Murray blew it off," he predicted. "Prosecutors want to show that this was reckless conduct."
Murray's purported recklessness is what Abrams seems to believe the case will hinge on:
But look, this is kind of a squishy legal standard here. No one's questioning that Dr. Murray administered certain drugs that are extremely contraversial, to say the least. So it's not a sort of 'who done it,' but it's a question of this technical legal standard of recklessness. Do they think that he ineffectively behaved?
As for the defense, Geragos suggests that they will have to be careful not to vilify Michael. "I think they have to talk about the fact that he has an issue, and they have to cast this as Dr. Murray being somebody who wanted to wean him off," he says. "He's already got the benefit of the doubt by them not charging second degree murder in this case."
Watch the full segment, courtesy of Good Morning America:
Have a tip we should know? tips@mediaite.com