Dan Abrams And Nancy Grace Are Suspicious Of Cindy Anthony's Computer Search Claims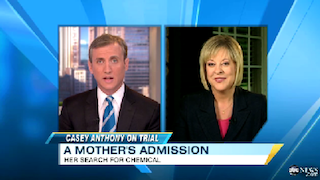 After yesterday's dust up between HLN's Nancy Grace and Mediaite founder and ABC legal analyst Dan Abrams on Good Morning America, it would be expected that some viewers were eagerly watching today's segment to see if any sparks flew. However, both had made it clear after the fact that they're old friends and would rather focus on the matter at hand, the trial of Casey Anthony. Yet, with the shocking twist in the case yesterday, GMA's George Stephanopoulos had to remark that there finally was some agreement between the two. What was it on? Well, they both seemed highly suspicious of the latest testimony from Anthony's mother Cindy.
One of the biggest pieces of evidence the Prosecution has is search history on Anthony's computer for terms like "how to make chloroform." These would seem to prove that the death of Caylee Anthony was pre-meditated. However, yesterday, Cindy testified that she now remembered that the search results were hers, something she hadn't said when the case started a few years ago. Both Abrams and Grace were dubious of these claims, pointing out that no one's memory gets better after three years. Grace in particular was outspoken, saying that the elder Anthony woman seemed to be just a mother doing anything possible to save her daughter from lethal injection and that the Defense may have put her at risk for perjury charges.
However, the segment didn't go completely smoothly as Abrams and Grace disagreed on how the Prosecution should have handled Anthony after her testimony. Abrams felt the attorney had been too hard on her and had risked making her seem sympathetic to the jury.
Watch the clip from ABC below:
Have a tip we should know? tips@mediaite.com