Dan Abrams And Nancy Grace Agree: The Defense Could Be In Trouble In Casey Anthony Case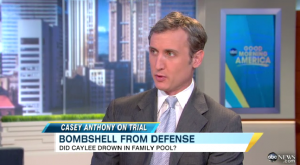 Mediaite founder and ABC legal analyst Dan Abrams appeared on Good Morning America with Nancy Grace to discuss the much-publicized trial against Casey Anthony, the young Florida woman charged with the murder of her toddler, Caylee Anthony. Now, shocking allegations have been lobbed by the defense against George Anthony, Casey's father.
Grace, who has been following the case for some time, said she had been paying special attention to Casey Anthony's parents during the trial, particularly her father's reaction. Grace, for one, isn't buying rumors and allegations that Mr. Anthony molested his daughter, Casey, or knew about the disappearance of his granddaughter, Caylee, and may have helped to dispose of her body.
Abrams thinks the defense could have gone in another direction:
I think the defense could have made a legitimate argument that she wasn't murdered and the prosecution won't be able to prove beyond a reasonable doubt that she was murdered and that after that, Casey kind of lost it in that 30 day+ period there. And that's a defense that A) kind of makes sense – you don't necessarily need to call Casey to the stand to testify about it and you don't start pointing fingers all around the courtroom.

I think that would have been an easier defense for the jurors, because, remember, the first witness called was George Anthony and the cross-examination fell flat. And so they're cross-examining him, trying to sort of suggest… This is , remember, if the defense is accurate, right, this is the guy who has been molesting the woman who is sitting there at his client's table. This is the guy who disposed of her child's body. This has got to be the great villain in the case and as a result, the cross-examination has got to be amazing. And it wasn't.
Watch the segment, via ABC:
Have a tip we should know? tips@mediaite.com