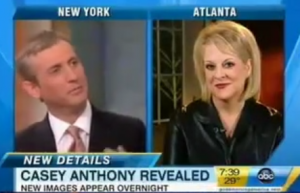 A day after the Casey Anthony video diary clip leaked on YouTube, featuring a blonde, glasses-wearing Anthony talking about her new adopted dog, among other things, there is still a question about whether the video was actually "leaked," or if Anthony and her team strategically released it in a cleverly orchestrated move to get some attention.
Nancy Grace and Dan Abrams appeared on Good Morning America Friday morning, and sparred over the origins of the video.
Grace, who famously railed against Anthony during her trial last year, immediately went for the jugular, saying that she's not buying the "leak," defense.
Dan Abrams Shames Himself, And All Of Mediaite, With A Cartwheel FAIL For The Ages On GMA
"Everything they or their client has said regarding this matter has been a big lie," Grace shouted. "According to my count, she mentioned herself 48 times! In my mind, this is a calculated move to stir up interest in herself."
Abrams, the founder of Mediaite, agreed that Anthony is "radioactive," but added that, "it doesn't mean people won't go to her like they want to watch a car wreck."
Grace countered by saying "of course" she leaked it for monetary gain, pointing out that Anthony had mentioned audio recordings that she made earlier. "What?" Grace asked. "For a book? Who's going to buy that?" When Abrams tried to make a point, Grace asked him if he noticed how she was all done up for the video. "Come on, Dan!" Grace implored. "You had to notice the low-cut shirt!"
Watch the video of the exchange below, courtesy of ABC:
Have a tip we should know? tips@mediaite.com